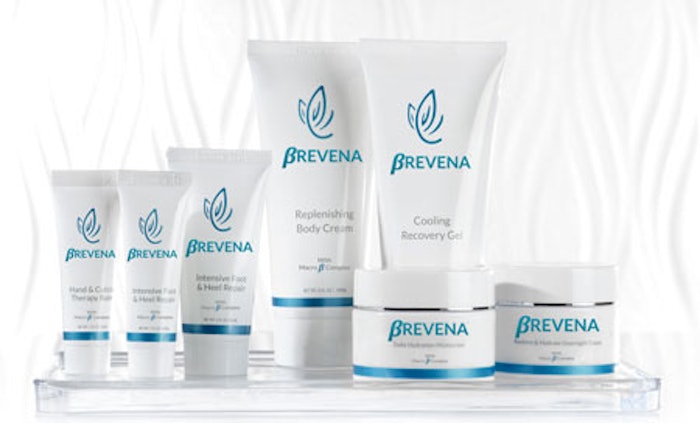 With two decades of success treating acute skin loss, Brevena Laboratories, LLC, launched a range of products featuring its Macro β Complex—a beta glucan-based ingredient used extensively in the medical field for more than 20 years, and now reformatted for the commercial skin care market. The complex provides cellular hydration to rejuvenate and protect both damaged and intact skin against the environment.
According to Brevena, researchers consider Macro β Complex to be a natural biologic response modifier or immunomodulator involved in the healing process.
The Brevena line includes five products:
• Daily Hydration Moisturizer
• Restore & Hydrate Overnight Cream
• Hand & Cuticle Therapy Balm
• Intensive Foot & Heel Repair
• Cooling Recovery Gel
The Macro β Complex has been shown to support skin health. In clinical studies, 100% of test subjects agreed the products left their skin feeling softer, with noticeable improvement after only one application.
The National Eczema Association recognized the brand's restorative skin balm with the Seal of Acceptance award.
Ingredients: Hand and Cuticle Therapy Balm: Petrolatum, Mineral Oil, Paraffin Wax, Purified Oat Beta Glucan, Cetyl Esters, Methylparaben, Propylparaben