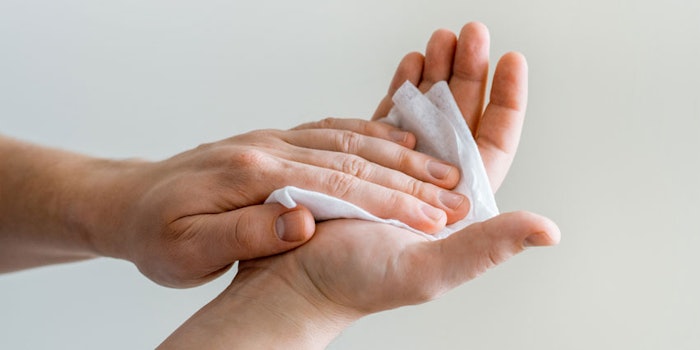 Kumar Organics reports its triclosan ingredient, Kopsan, has been found to demonstrate good virucidal efficacy against HCoV-229E, a COVID-19 strain, in addition to the ingredient's known antibacterial and antifungal effects.
According to a third party study (data unpublished), at 100 µM, the ingredient produced a log reduction of 5.67 against the HCoV-229E virus after 10 min. The study was conducted as per ASTEM E1053 and found that 100 µM Kopsan eliminated the SARS Virus HCoV-229E up to 99.99% after 5 min and 99.999% after 10 min. The company reports that from its efficacy against this strain, it can be inferred to protect against COVID-19 as well.
Triclosan Basics
As Vinay Kumar Singh, head of formulation for the company, explains, triclosan is an antibacterial and antifungal agent present in many consumer products. It is a chlorinated aromatic compound that has functional groups representative of both ethers and phenols; and phenols often show antibacterial properties.
As is well-known, the ingredient has long been used in soaps, shampoos, deodorants, toothpastes, mouthwashes, cleaning supplies and pesticides, and is added to a variety of products to slow or stop the growth of bacteria, fungi and mildew. Triclosan is also used in coatings for some surgical sutures, as there is good evidence that this reduce the risk of surgical site infection.
Importantly, as previously reported, the U.S. Food and Drug Administration (FDA) banned the use of triclosan from OTC topical products in 2017 without premarket approval. In its final ruling on hand sanitizers in 2019, the FDA also deemed triclosan ineligible for use in OTC antiseptic rubs and washes. This was due to insufficient data regarding its safety and efficacy. The agency reports there are ongoing studies in this regard. 
Triclosan Backstory
Singh notes that triclosan was developed in the 1960s and was used as a hospital scrub in the 1970s. A 2006 study recommended showering with 2% triclosan as a regimen in surgical units to rid patient's skin of methicillin-resistant Staphylococcus aureus. Further, a Cochrane review of 30 studies concluded that triclosan/copolymer-containing toothpastes produced a 22% reduction in both dental plaque and gingival inflammation, when compared with fluoride toothpastes without triclosan/copolymer. 
COVID-19 Efficacy
As Singh writes, "it is good news that triclosan proves to be virucidal against the SARS virus. It is an exciting discovery [as we face] COVID-19." He adds that depending on the type of surface and ambient conditions, viruses can persist for as little as 5 min to greater than 28 days on inanimate surfaces. "The use of sanitizing agents for personal care and surface disinfection is clearly of paramount importance in limiting viral transmissions, by inactivating the viruses before they have a chance to enter the human body."
Singh continued, "In the context of the present viral epidemic, triclosan can be explored against COVID-19 as a virucidal agent apart from its antibacterial applications." He added it also could find utility in protective face masks, wipes, antimicrobial coatings, paints, pipes, door handles, bed foams, cleansers, hygiene products, sanitizers and medical devices. "Triclosan may prove to be boon in this epidemic situation by offering protection to mankind," he concluded.