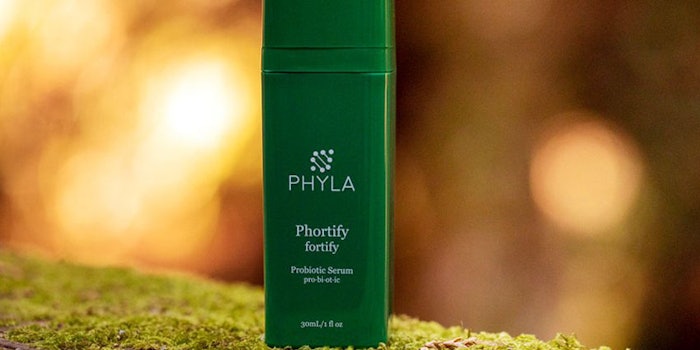 Phyla Twitter
Phyla announced the results from a clinical study for its Phortify Probiotic Serum containing the brand's probiotic live phage.
Featured: Mitigating 'Maskne:' Boldo to Balance Sebum, Bacteria and Redness in Acneic Skin
Phyla's phage reportedly recalibrates the microbiome by killing only the acne-causing bacteria while protecting and nurturing the beneficial skin flora. In relation, results indicated a link (p < 0.05) between reduced C. acnes bacteria and improvement in acne occurrence, and overall skin health. The randomized, controlled trial tested for three end goals: if phage reduced C. acnes on the skin; if the C. acnes reduction resulted in blemish control; and if this balancing of the microbiome made skin healthier.

See related: Viral Skin Defense; Phage Therapy, A Commentary
Ninety subjects between the ages of 12 and 35 participated for eight weeks to compare the acne prevalence of skin treated with Phyla's Phortify Probiotic Serum containing phage to a placebo group of skin not treated with phage. After eight weeks, subjects treated with phage showed improved Investigator Global Assessment (IGA) scores, compared with the placebo arm (p = 0.041). Correlation between the C. acnes reduction and clear skin demonstrates the link between C. acnes and acne.
Additionally, in the clinical volunteer follow-up questionnaire, 87% of participants reported they would recommend the product; 80% of participants were satisfied with results; 70% saw an overall improvement in facial skin; and reportedly none of the participants showed skin irritation responses.
"We are excited to share our study's promising results where Phyla's proprietary phage probiotic reduces C. acnes bacteria on the skin and helps to control breakouts, while also increasing microbiome diversity to promote long-term skin health," said Yug Varma, CEO and co-founder of Phyla. "Phyla's mission is to show that consumers don't need harsh products to get clear skin and we couldn't be happier to share these results that we are producing for consumers with [products addressing] breakouts and skin issues."
Ingredients: Water (Aqua), Neopentyl Glycol Diethylhexanoate, Squalane, Glycerin, Cetearyl Alcohol, Methyl Glucose Sesquistearate, PEG-20 Methyl Glucose Sesquistearate, Glyceryl Stearate, C. Acnes Bacteriophage, Tocopherol, Glyceryl Caprylate, Hydroxypropyl Guar,  Sodium Phosphate, Sodium Chloride, Potassium Chloride, Phenoxyethanol.
Previously: All Judgements Aside: Acne Perception and Care