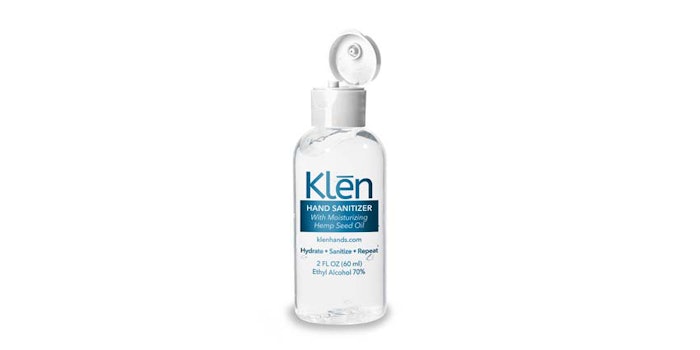 The Klēn Hands Hemp-infused Hand Sanitizer was reportedly developed to combat the coronavirus; using 70% ethyl alcohol plus hemp seed oil to keep hands soft and hydrated.
The product uses a water-soluble formula since, according to the company, this allows for the moisturizing elements to be more efficiently absorbed.
"We are working to develop solutions for both product and technology in order to assist in the effort of combating COVID-19," stated Greg Lambrecht, CEO, SinglePoint, Inc. "As many people know, our company has deep ties to the Washington State area. We believe we can provide solutions in the near term to help with the dissemination of current, reliable information and in the interim, use our facilities to develop products such as hand sanitizer."
The company's portfolio currently includes solar power systems, combustible hemp and technology applications. 
Klēn Hands Active Ingredient: Ethyl Alcohol 70%; Inactive Ingredients: Water (aqua), Dimethicone Copolyol, Carbomer, Aloe Barbadensis Leaf Juice, Triethanolamine, Hemp Seed Oil.
For more information, visit the product website.