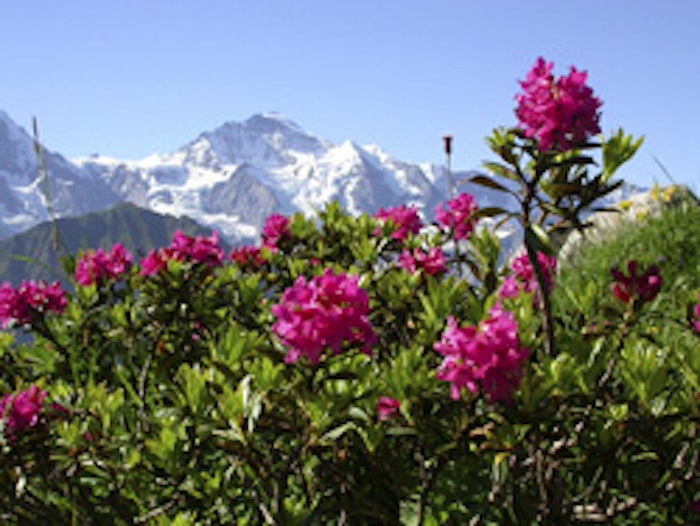 Mibelle Biochemistry launched a new stem cell active based on alpine rose. PhytoCellTec Alp Rose (INCI: Rhododendron Ferrugineum Leaf Cell Culture Extract (and) Isomalt (and) Lecithin (and) Sodium Benzoate (and) Lactic Acid (and) Water (aqua)) is said to protect skin against UV stress, increase skin stem cell vitality, boost epidermal regeneration and improve skin barrier function.
Alpine roses are Swiss flowers that grow at altitudes of up to 3,200 m. In this environment, they must adapt to extreme conditions such as the cold, UV and dryness. The leaves of these roses, therefore, were sourced to create an active that protects skin stem cells against environmental stress factors and improves their function.
Skin's ability to protect the human body from the environment relies heavily on the renewal and repair of the skin barrier by the epidermal stem cells. But environmental changes and aging impair the skin barrier leading to a drier, more fragile skin and accelerated aging.
To create the active, the company employed its PhytoCellTec technology to obtain the stem cells from alpine rose leave, which were incorporated in a water-soluble powder. These alpine rose stem cells contain epigenetic factors and metabolites that are able to preserve the human skin stem cells' function. After creating the active, the company used its Progenitor Cell Targeting technology, to show that the ingredient increases the vitality of epidermal stem cells by helping them to maintain their stem cell characteristics and protects these stem cells against environmental stress.
The alpine rose active is recommended for: advanced "stem cell cosmetic" formulas, face and body care to protect stem cells against environmental stress and every weather formulations. Formulators can incorporate the active: at 0.4–1%, by dissolving it into the aqueous phase and by adding it pre-solved during the cooling phase (<60 °C). The active is dissolvable at up to 20% in water and it is stable up to 60°C for a short time.