Silab has lauched an anti-dandruff ingredient that is produced from pomegranate peel. Adandrine (INCI: Water (aqua) (and) butylene glycol (and) triethanolamine (and) Punica granatum (pomegranate) extract) is claimed to control microbial proliferation by inhibiting the growth of the fungus Malassezia furfur, although, according to the company, it has not yet been determined that Malassezia furfur is responsible for the appearance of dandruff.
Other possible causes of dandruff exist, including over-aggressive hair treatments, climate, nervousness, diet and pollution. The increased speed of cell replacement can lead to excess desquamation, and the proliferation of the fungus causes irritation of the scalp. Anti-dandruff treatments can reduce or eliminate the fungus without harm to the body because it is not part of the useful ecoflora of the skin.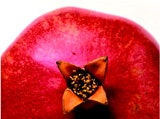 In addition, the ingredient is said to restore the balance of the epidermal differentiation process by stimulating the synthesis of involucrin, allowing full maturation of the stratum corneum. When submitted to dandruff, the transmit line for keratinocytes between the basal layer and the stratum corneum decreases, resulting in incomplete keratinization of the corneocytes. The stratum corneum process is altered, and the integrity and operation of the function barrier are disrupted.
The pomegranate tree, according to the company, is known in the Middle East for its emollient and anti-inflammatory-aiding fruits. Silab saw the potential benefit of the fruit to the scalp and thus created an ingredient for hair care. Dandruff, scales, itching and irritation reportedly are eliminated with the use of the ingredient.
The company conducted trials where 4% of the product was formulated in a shampoo vs. a placebo. After sampling the scalp with D-squames before and after one month of treatment every two days, the company found the ingredient to reduce the desquamation index.