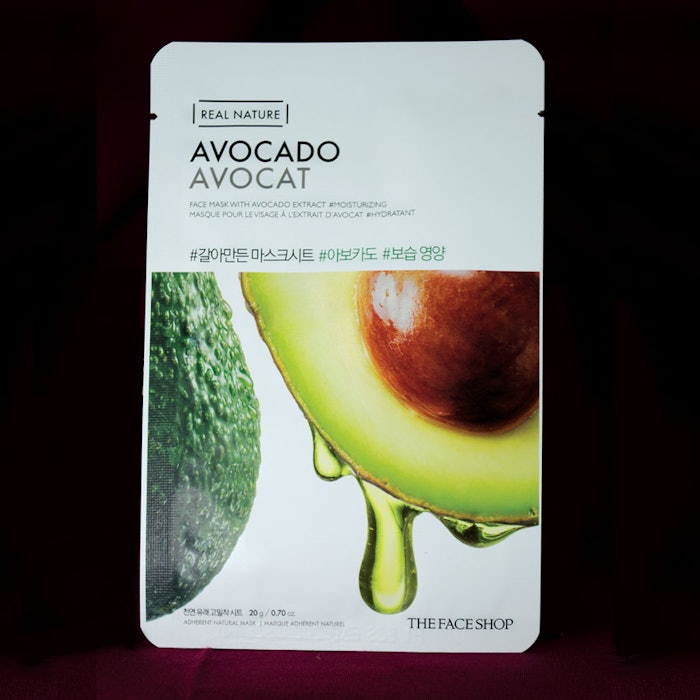 The Real Nature Avocado facial sheet mask by TheFaceShop claims moisturizing and nourishing properties. Formulated with avocado essence, which is rich in essential amino acids and vitamins, the product aims to provide skin with comforting moisture and nourishment. The mask is drenched in emulsified moisturizing serum and contains no parabens.
The product touts the use of a natural squeeze-and-extraction process, whereby whole natural plant extracts, in this case avocado, are ground with water. The pulp-based sheet contains air pockets in which the nutritional essence and moisture are embedded for delivery to skin.
Instructions direct users to wash the face and apply toner. Then, pull out the mask from its pack and carefully place it on face. Remove after 10 to 15 minutes and pat the face lightly to absorb the remaining essence into skin. The product is intended for external use and users are directed to avoid contact with eyes, keep out of the reach of children, and discontinue use if irritation or rash appears.
This column will review the ingredient listing for claims substantiation and functionality.
Fluid Foundation
The sheet mask is soaked in a water-based fluid composed of water; butylene glycol, a viscosity-enhancing solvent and astringent; and the antibacterial alcohol (denat.). Emollient and emulsifying agents include caprylic/capric glycerides, PEG-60 hydrogenated castor oil and hydrogenated lecithin. 1,2-Hexanediol, a skin-conditioning agent, and dimethicone, a silicone, adds a dry sensory feel to the formulation.
Stability and More
The formulation is stabilized by the viscosity-controlling xanthan gum; the gel-forming carbomer; and chelator disodium EDTA. Potassium hydroxide acts as a buffering agent. Ethylhexylglycerin serves as a weak preservative and skin conditioning agent. The formula also contains fragrance.
Active Constituents
The active ingredients include humectants, glycerin, trehalose and sodium hyaluronate—a hydrating macromolecule.
Avocado oil, extracted from the pulp fruit of Persea americana, is rich in linoleic acid, linolenic acid and oleic acid. It also contains β-sitosterol, β-carotene, lecithin, minerals and vitamins A, C, D, and E. The oil provides a protective barrier with minimum penetration into the epidermis, which is good for the enrichment of dry, abraded skin. In animal wound models, faster re-epitheliazation, increased collagen synthesis and modified inflammatory response during the wound healing process have been reported with the use of avocado oil.
Panthenol is a softening and soothing active, and allantoin has anti-irritation properties. Finally, grapefruit extract contains polyphenols, which are suggested to have potential antimicrobial and photoprotective properties; though more research is required.
Conclusions
In my view, the comforting moisture and rich nourishment claims are likely to be substantiated; however, the content of alcohol, grapefruit extract and fragrance might present an issue for very sensitive skin types.
Ingredients: Water/Eau (aqua), Butylene Glycol, Glycerin, Persea Gratissima (Avocado) Fruit Extract, Alcohol Denat., Trehalose, Panthenol, Caprylic/Capric Glycerides, 1,2-Hexanediol, Sodium Hyaluronate, Citrus Paradisi (Grapefruit) Fruit Extract, Dimethicone, Allantoin, Hydrogenated Lecithin, Xanthan Gum, PEG-60 Hydrogenated Castor Oil, Carbomer, Ethylhexylglycerin, Potassium Hydroxide, Disodium EDTA, Fragrance (parfum)
Source: TheFaceShop