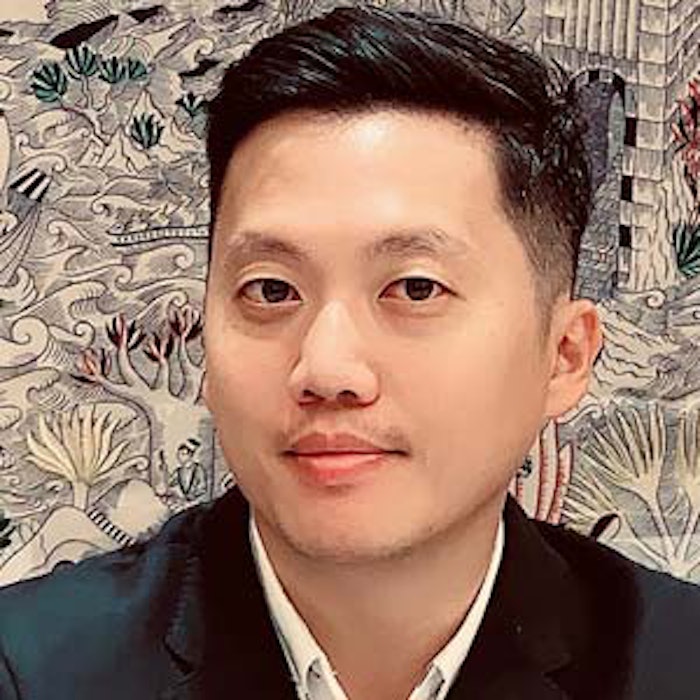 'The Cosmetic Victories' is a contest organized by Cosmetic Valley to reward and promote innovative projects related to perfume and cosmetics. Here, we highlight finalist Mark Huang, president of Imderma Laboratories Co., Ltd., who explained his company's penetrating peptide + EGCG system.
Note: Finalists were chosen in February 2020 and winners will be announced this October 12-13, 2020, during the new e-Cosmetic360 event (formerly Cosmetic360).

What is your innovation? How is it used?
What is novel about it? How might it shape the cosmetics and personal care market? How would you market it to consumers?
The specially designed patented Peptide X, in the CPP family, acts as a carrier. This is the first known application for the peptide in skin care products, and it has been found to carry actives into skin cells effectively. It also is capable of assisting other soluble small molecules, nano particles, growth factors, etc., to enter the skin cell quickly and safely.
The use of the Peptide X delivery technology is combined with EGCG, formulated through and eco-friendly process without any solvent. With the demand for antioxidant and anti-aging skin care products rising globally, Imdermalab X-EGCG provides high efficacy with a low antioxidant dose for optimal antioxidation and anti-aging results to meet the market demand.
From where did your idea come? A market need? A new technology?
Nowadays, many people suffer from oxidative damage caused by lifestyle, which can even contribute to aging problems. According to the FMI and Grand View Research firms, the cosmetic antioxidants market is projected to grow from US $109.0 million in 2017, to US $150.9 million by 2023*—a CAGR of 5.6% from 2018 to 2023, wherein natural antioxidants will hold > 50% share.
To approach this potential market demand, we developed a powerful bioscience-based platform and trans-epidermal formulation. This combines the described patented cell-penetrating peptide with EGCG for an innovative system with efficacy.
*pre-COVID-19 projection
What product development challenges did you face in creating it? What skills or technologies supported your success?
EGCG has long been recognized as a powerful and multifunctional ingredient. It possesses potent antioxidative, skin-soothing and antibacterial activities, among others. However, due to its water-soluble structure, EGCG has been challenging to deliver across the skin barrier and cell membrane lipid bilayer to effectively exert its antioxidant effect.
To solve this issue, as previously described, we developed an innovative delivery technology system, Imdermalab X-EGCG, consisting of natural EGCG and a patented cell penetrating peptide (CPP) to accelerate the effect of EGCG without any irritation.
What outcome do you anticipate from this competition? From your work?
The new Imdermalab X-EGCG system has been evaluated and found capable of effectively scavening free radicals. It is provided as ready to use in formulations for optimal results with lower ingredient dosages.
ImDerma aims to develop new collaborations with regional distributors globally in the field of skin care or cosmeceuticals. Also of interest are technical authorization collaborations with would-be clients or interested partners.
For more information, visit the Cosmetic Valley or Cosmetic Victories website.