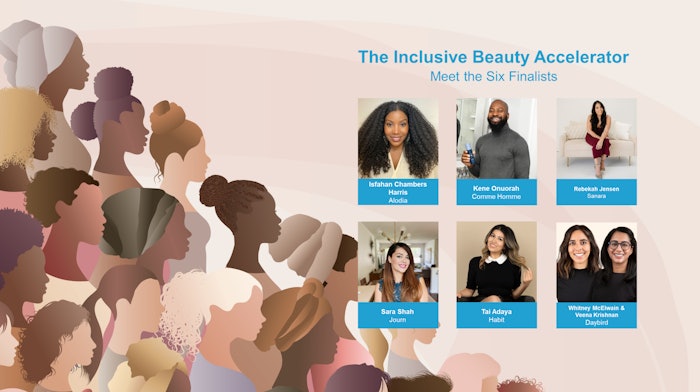 BASF and StitchCrew have announced six finalists for The Inclusive Beauty Accelerator, featuring BIPOC founders that "have a personal connection with the market they are trying to serve and are deeply committed to creating true value for their customers and growing their company."
The Inclusive Beauty Accelerator provides each entrepreneur with:
A six-week training curriculum
Mentorship from BASF's technical team and extended network
BASF lab access
A $10,000 non-dilutive stipend
Exposure to CPG investors
The finalists are:
Alodia: A clinically proven hair and scalp line
Commee Homme: A tech-enabled personal care brand focusing on hair loss
Sanara: A body care line powered by indigenous Latin American botanicals
Journ:  Sience-backed skin care and beauty products that address skin concerns of melanated skin 
Haibt: A sunscreen brand that focuses on products that work for all skin tones, especially dark skin tones
Daybird: Clean formulated makeup with clinically active skin care ingredients
Marcelo Lu, senior vice president, BASF Care Chemicals, said, "BASF is investing heavily in R&D to create new products that are effective for diverse skin and hair types. We are delighted to work with these brands because of their fresh ideas, but also because of the way they are turning their vision into reality, looking to create a positive impact in the personal care industry."
Erika Lucas, co-founder, StitchCrew, said, "We stand proud in our partnership with BASF, as we continue to invest and uplift in minority-owned indie brands through the Inclusive Beauty Accelerator. These brands are breaking barriers and fostering much needed change in the industry to ensure the space is more inclusive and brining innovative products to traditionally overlooked customer segments."