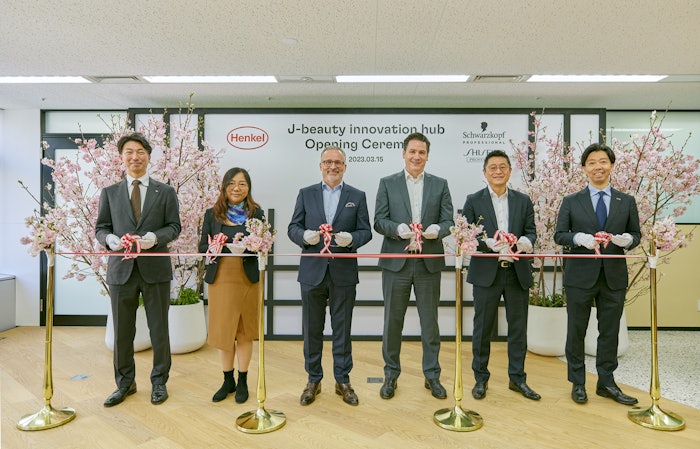 Henkel has opened the J-beauty Innovation Hub in Tokyo with the Schwarzkopf and Shiseido Professional teams co-locating within the hub.
The hub leverages the expertise of Schwarzkopf and Shiseido Professional with regards to strategy, marketing, product development, hairdressing education and operations.
In R&D, Henkel will significantly increase its capabilities in new product development and ingredient formulation.
The teams are working closely together to bring a unique fusion of Asian and Western beauty concepts, trends and solutions to Asian salon partners and consumers.
Key features of hub include:
The R&D lab has state-of-the-art equipment for product development and characterization with a focus on hair product and color development for the Japanese market and Asia.
The product evaluation studio, installed with beauty mirrors and shampoo basins, is used for testing the sensory performance of the products for hair care, hair color, perm and styling.  
The color observation room is fitted with a special lighting system to enable evaluators observe the color of the hair in a constant condition 24/7.
The behavior observation cube is a reproduction of the bathroom in an average household. Working with test users and learning from their experiences will enable the team to develop customized solutions and improve product designs.
Carsten Knobel, Henkel CEO, said, "Asia is a highly dynamic region generating many trends and innovations, especially in the consumer goods market, which we are expanding and leveraging globally. With its inspiring and collaborative environment, our new innovation hub will help to accelerate impactful innovation and further strengthen our Hair Professional business in this strategically important region for Henkel. It supports our ambition to further advance our competitive edge and turn innovation into a true competitive differentiator."
Wolfgang König, executive vice president Henkel Consumer Brands, said, "We purposefully built the J-beauty innovation hub in Japan, as it is the world's second largest Hair Professional market. Together with our Schwarzkopf Professional hubs in Los Angeles and Hamburg, we now have a global ecosystem across North America, Europe, and Asia for our Hair Professional business. We will tap into this exciting opportunity to elevate our iconic brands and drive new innovations to meet the changing needs of hairdressers and consumers."
David Tung, regional president of Henkel Consumer Brands Asia, said, "The J-beauty innovation hub strengthens our capabilities to develop brands and innovations in Asia for Asian consumers. It is a game changer for our business and salon partners in Japan as well as in the leading Asian beauty markets of Greater China, Korea, Thailand, Singapore, and Malaysia. The close collaboration between marketing, brand development and R&D creates an entrepreneurial culture, where the teams can conceptualize and test new ideas quicker and make decisions faster on go-to-market strategies. The J-beauty innovation hub is thus pivotal for accelerating our Hair Professional business growth in Asia."