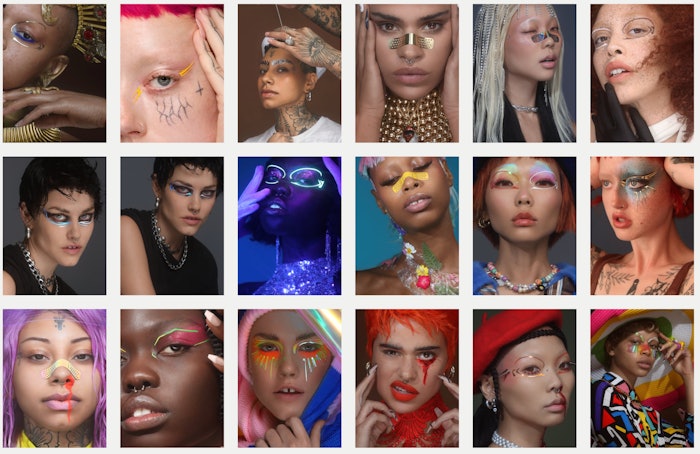 Celebrity makeup artist Vittorio Masecchia has debuted Vittorio Masecchia Beauty, featuring a line of luxury facial decals, reflecting growing consumer interest in the space.
Previously: Top 2022-2023 Beauty, Hair, Skin, Body and Makeup Trends
As Spate noted last year, makeup stickers have been trending in online searches.
As of December 2021, there were 2.6K average monthly searches in the United States for eyeliner stickers. Although that reflected a 234% increase in searches year-over-year, it was still very low compared to other eyeliner products.
There is very low competition for this emerging trend; most consumers were searching Sephora and Amazon to find products.  
Vittorio Masecchia Beauty's facial decals are designed to be worn as makeup, over makeup or paired with clean, underdone skin. 
The initial launch spans 24 graphic forms across 24 materials and 12 symbiotic color pairings totaling 576 SKUS starting at $18. 
The collection includes:
The Galilelo
The Pineal
The Flamethrower
The Moon Landing
The Power Bottom
The Visionary
The Pencil
The Casillas
The Thorned Lovers
The Plaster
The Switchblade
The Kholm
The Extended Cut
The Cause & Effect
The Hunter
The Sombati
The Bend & Snap
The Lineage
The Designer Bags
The Fitz
The Mod
The Loren
The Diamond Wing
The Radioactive
Masecchia said, "I wanted to create a collection that was an extension of the makeup I do in the field—mostly the fashion and music world. My ultimate goal with Vittorio Masecchia Beauty was to marry a love of tech and cosmetics with unique, hand-designed pieces that celebrate the harmony of the two. It's a nod to the grandeur of runway style and fluidity of makeup in the form of visages that don futuristic and prismatic couture-like gems in an otherworldly way."