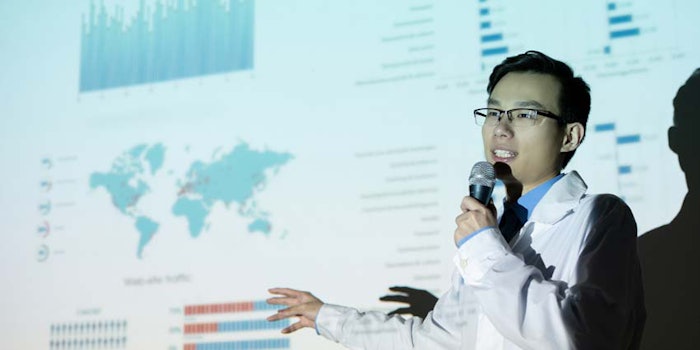 As host society for the 32nd IFSCC Congress, the UK-based Society of Cosmetic Scientists (SCS) has issued a Call for Papers for the event, which will be held in London from Sept. 19-22, 2022.
Related: IFSCC Winners: Hair Muscle Anti-aging in 4D, Vascularized Skin Model and Odor-inhibiting Fragrance
The SCS encourages scientists globally with an interest in cosmetics to submit abstracts for the opportunity to present from the podium or as a scientific poster at the 2022 IFSCC Congress. Abstracts will be reviewed and selected by SCS's Scientific Committee. The submission deadline is January 31, 2022. Selected winners will be notified by email on March 1, 2022. The three-day congress features a variety of topics within the beauty industry, from technological advances and innovation, to beauty-based science.
Majella Lane, M.D., chair of the Scientific Committee and director of Skin Research Group, UCL School of Pharmacy, London, said:
"We are excited to announce the opening of the abstract portal on ifscc2022.com. This moment marks a significant step in the planning of this Congress—the first IFSCC Congress to be held back in the UK for 20 years. We will be looking for research that progresses cosmetic science and has not been previously presented or published to the industry.
"The outstanding standard of the science that will be presented at the event makes the 32nd IFSCC Congress London a must-attend occasion for everyone involved in cosmetic research. There is nowhere like London to give people a unique stage to demonstrate their creativity and innovation and to really shine."
More information outlining the program and its list of keynote speakers is available at ifscc2022.com.
Session Themes and Topics
Day 1—Beauty for a New Age
Delivering Efficacy
Skin Health, Protection and Well Aging
Focus on the Skin Microbiome
Major Advances in Hair Science and Technology
Day 2—Science of Our Time
Neuroscience: Engaging Our Brains and Emotions
Sensory Science: From Texture to Fragrance
The Omics: Technologies in Action
Instrumentation: Measurement and Meaning
Day 3—Innovation for Tomorrow's World
Science and Technologies Behind Cutting-edge Ingredients
Sustainability, Environment and Biodiversity
Formulating for Customization and Personalization
Advancing Consumer Safety