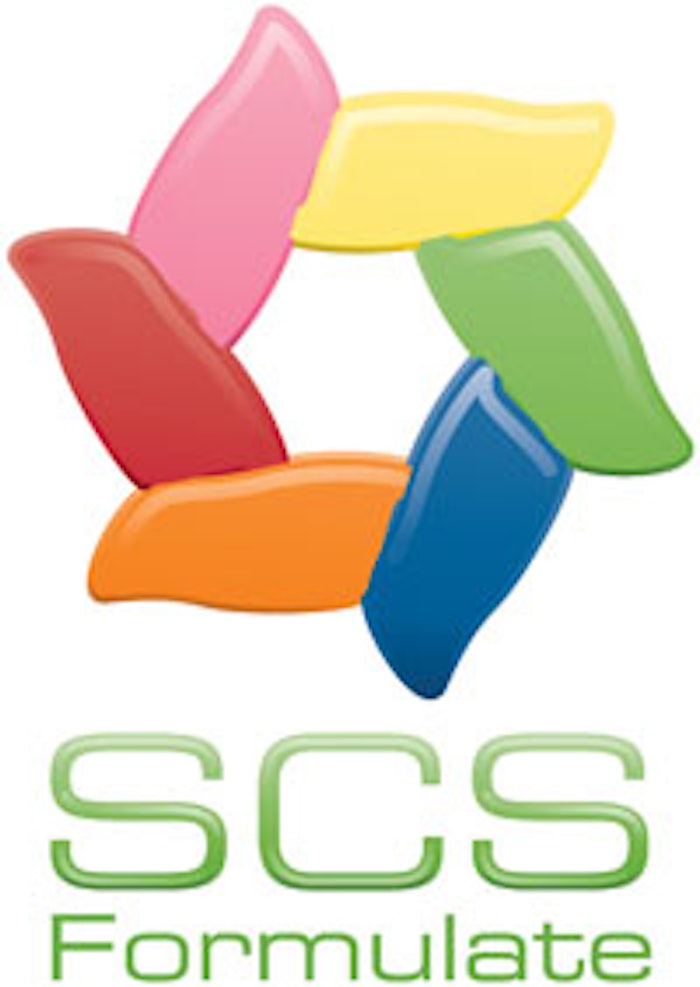 The Society of Cosmetic Scientists created SCS Formulate to offer a meeting with enhanced content–from seminars to technical presentations and an exhibition–that provides formulators and others in personal care R&D access to practical information and expertise that they can apply.
SCS Formulate will take place at the Ricoh Arena, Coventry, UK, on Nov. 15–16, 2011. Centrally located in the UK, the venue is close to Birmingham International Airport, which can be connected to many locations in Europe and around the world.
SCS Formulate's website includes a useful Plan Your Visit tool, where visitors can choose from an eye-opening menu of all the meetings, presentations and ingredients available to extract every element of content and create their program for a successful visit.
Achieving practical outcomes is a key objective in the content of SCS Formulate. Accordingly, the seminars offer detailed content on specific issues. The presentations provide information on ingredients and formulation techniques. Also, the exhibition is open for more than eight hours–giving everyone time to take in what they need for an action-packed day.
Knowledge Seminars
Success is about making things happen. That is why the Knowledge program deals with essential techniques that deliver practical applications-oriented outcomes. The seminars are delivered by internationally renowned speakers–experts in their fields with many years' experience at the cutting edge of personal care R&D. Presentations offered include the following:
Emerging Color Cosmetic Technologies
Rosemary Collins, About Face Cosmetics
Encouraged by a rally in consumer interest, the color cosmetics market has enjoyed a revival in fortunes, recording a recovery in 2009 and again in 2010 following disappointing sales in 2008. Promotional activity has been apparent in the recession, new launches have been positive, and creative difference is regarded as a key factor in future growth. Facial makeup, specifically foundation, has benefited from the influence of areas such as naturals and skin care over the past 12 months. Also, there is now strong consumer demand for multitasking products that deliver the instant effects of a color cosmetic and longer term care benefits. There are many recent introductions that can potentially satisfy these demands. This session examines the technology behind emerging trends in key color cosmetic product categories.
The learning outcomes for this seminar include: awareness of product performance trends in the areas of lip products, mascaras, foundations and powders; understanding the technology of base formulation to date in these product categories; awareness of new technology, its impact on base formulation and potential benefits and understanding the technology behind the trends in active ingredients in these product categories.
The Sense of Smell: Formulating With Fragrance
Andrew Short, CPL Aromas
Product performance of a fragrance is a complex and interesting area that involves ensuring not only that a fragrance meets the odor characteristics suitable for the end product, but also that it is stable and performs any other functions required of it. This includes combating unwanted base odors or odors produced in the use of the end product.
The fragrance house applications chemist faces many challenges in supporting the sales team to ensure that the customer receives the best possible fragrance for their product. They have to be expert in all areas of fragrance application and continually test many individual fragrance raw materials to provide confident guidance to the perfumers on their quest to create that winning fragrance. They also importantly support their account managers to ask the right questions when briefed on a new project to avoid retesting and ensure the customer meets their target date to launch in the market.
The learning outcomes of this seminar include: creating a fragrance specific to the application for which it is intended; information required for fragrance briefs provided to the fragrance house to ensure the best compatibility with a product; how fragrance can improve a formulation; understanding what could potentially interact with the fragrance in a formula; importance of the manufacturer's testing of the product in the correct packaging; and how fragrances are tested to ensure performance in the given application.
Sensory Parameters and Cosmetic Formulae
Luigi Rigano, Industrial Consulting & Research
Effective communication requires sharing the same dictionary with the involved parts. Technology involved in cosmetic formulation architecture is required to satisfy also the emotional and sensorial needs of the consumers. In order to communicate precisely with a consumer's senses, an adequate sensorial strategy must be adopted and applied to the ingredients chosen and assembly. The evolution of perceptions before, during and after the application of a cosmetic onto the skin can be organized systematically during the development phases. The main fields of play, among many, concern the rheology and texture influencing ingredients, the hydrotropes equilibrium and the oil phase organization, not to mention the correct identification of perfumes and color codes.
The learning outcomes of this seminar include: the sensorial language shared between the formulator, the marketing and the consumer, sensory evolution of cosmetics in all application phases as a non-verbal communication driving the correct application and final satisfaction; the expert's evaluation as a key role in formulae development, but a systemic approach by a trained sensory panel is also possible; selection of thickeners, hydrotropes and oils as examples of sensory formulation strategy, sensorial enchantment of the consumer a key final goal for the formulator; the sensory science influence of formula development, together with chemistry, biology, physics and dermatology.
Trends in Marketing Science to Consumers
Raniero De Stasio, L'Oréal
Examples are given of L'Oréal's "first time in the field" science messages. This includes the use of different communication strategies with celebrities, "high tech" messages or use of global scientific events to launch new consumer technologies. An analysis of what works and what works less effectively is also presented. In any case, no matter whether Jennifer or Penelope or a less appealing ambassador are used to explain the science, L'Oréal's objective is to be identified by consumers as the company that uses science to develop its products.
Learning outcomes from this seminar include: science as a "dry subject" and not always straightforward in "selling" it to consumers; science definitely helps promoting products as demonstrated by 100+ years of history for L'Oréal; science will continue to "sell" products regardless for the foreseeable future; the importance of making science more fun and attractive using celebrities to endorse it; science messages as great stories for cosmetic scientists, even when they do not work for consumers; science (communications) are worth it.
Trends and novel technologies in sun protection
Julian P. Hewitt, JPH SunCare Technologies
Sun Care is one of the fastest-growing segments of the global personal care market, and staying ahead of the game in this sector is uniquely challenging, as changing regulations and growing consumer awareness drive demand for more effective and elegant products. This seminar reviews recent market trends and regulatory developments in sun protection, showing how these are likely to influence sun care formulations in the future. The key market and technical requirements for different types of UV protection products are discussed, with outline formulation strategies for each. Finally, the seminar covers new technologies in active ingredients and excipients for sun care, indicating how these can be incorporated into the formulation strategies to optimize the efficacy of UV filters and hence create more cost-effective and elegant products.
The learning outcomes for this seminar include: gaining up-to-date knowledge of regulatory requirements for sun protection products in Europe and elsewhere; learning about current market trends in sun care and understand how to meet the needs of different market segments; learning how to choose UV filter combinations that complement each other to optimize SPF and meet UVA performance standards; learning how to get the most out of organic UV filters by choosing the right excipients to maximize efficacy; understanding how to effectively use inorganic filters, and uncover the myths and the facts about nanoparticles in sun care; and understanding how SPF boosters work, and where they are most useful.
Source Presentations
The Source presentations are ideal for definitive answers to technical questions from people who make the ingredients manufacturers work with every day. It is a free, two-day program of short, sharp presentations from suppliers. The Source has been a popular feature of SCS Formulate since its inception. This is science, technology and formulation technique in a concentrated formula, but one that a formulator can also dip in and out of for content of specific relevance. There is something for everyone in the program of Source presentations, allowing every attendee to match the technologies available with how to obtain them via the exhibition. See Source Presentations, Nov. 15 and Source Presentations, Nov. 16, for a listing of Source Presentations, as of Sept. 7, 2011. The more current Source Presentations can be found on the SCS Formulate's website.
Exhibition
In 2011, the SCS Formulate Exhibition will be the largest that it has ever been, with more suppliers (and new ones too) bringing every conceivable ingredient, raw material and other vital tool for formulating personal care products.
The exhibition is an ideal opportunity to see the new, the innovative, the proven, the everyday and the obscure—everything needed to create, make and market personal care products for today and tomorrow. Full exhibitor profiles can be found on SCS Formulate's website. See Exhibitor List for the current company listing, as of Sept. 7, 2011. The most current Exhibitor List can be found on SCS Formulate's website.
Venue
Set in a site covering more than 40 acres, the Ricoh Arena is unlike any other development of its kind in the UK. With state-of-the-art conference and exhibition facilities, this multi-purpose complex has already won awards for its design.
The unique development also has some of the finest transport connections in the UK, making it an attractive and easily accessible location both locally and internationally.
Travel to SCS formulate can be made with the following:
M6: 0.3 miles from junction 3
M69: 1 junction / 4.5 miles
M1/A14: 3 junctions / 14 miles
M6 Toll/M42: 1 junction / 10 miles
Birmingham International Airport/station: 16 miles
Coventry Rail Station: 4 miles
Visible Results in 48 Hours
Business is all about change–new trends in personal care products, the way people look, formulations and ingredients and the science behind the applications.
The two-day content at SCS Formulate is one of the most focused and authoritative of its kind, bringing together leading scientific experts and suppliers from around the world. This is every visitor's chance to learn about the latest innovations in ingredients and formulation techniques direct from the people making them—powerful stuff, with immediate and lasting effects.
Disclaimer:
The above paid-for content was produced by and posted on behalf of the Sponsor. Content provided is generated solely by the Sponsor or its affiliates, and it is the Sponsor's responsi­bility for the accuracy, completeness and validity of all information included. Cosmetics & Toiletries takes steps to ensure that you will not confuse sponsored content with content produced by Cosmetics & Toiletries and governed by its editorial policy.