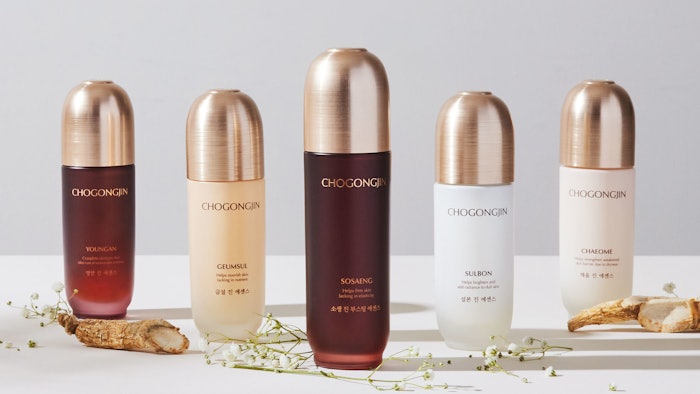 Courtesy of Chogongjin
Able C&C has launched its herb-and-root based skin care brand, Chogongjin, to the U.S. market.
Related: For The Biome Brings Sentient Skincare to Consumers
Able C&C is a global manufacturer of K-beauty skin care and cosmetics.
Chogongjin was inspired by the traditional Korean practice of hanbang, which uses herbal ingredients to enhance and balance the body and mind.
The brand's proprietary formulation, Biogongjin, features ginseng, thyme extract, Korean angelica extract and Cornelian cherry extract. 
The line consists of five collections each targeting different skin needs:
Sosaeng is formulated with Korean red ginseng to target multiple signs of skin damage and aging, such as wrinkles and sagging, while promoting firmer, rejuvenated skin and complexion.
Geumsul nourishes the skin with panax ginseng and royal jelly, to promote collagen production and provide anti-inflammatory properties for a smoother complexion.
Youngan provides intensive anti-aging benefits to mature skin experiencing deeper lines and sagging using powerful black ginseng.
Chaeome contains probiotic Prescription Barrier Booster technology to restore the skin's microbiome and defend against the effects of pollution, stress and sun damage.
Sulbon is enhanced with pearl extract to help brighten and clarify the complexion.
Products in the collections include essences, creams, moisturizers and face masks.  
Sosaeng and Geumsul are available now, while Youngan, Chaeome and Sulbon will be introduced later this year.