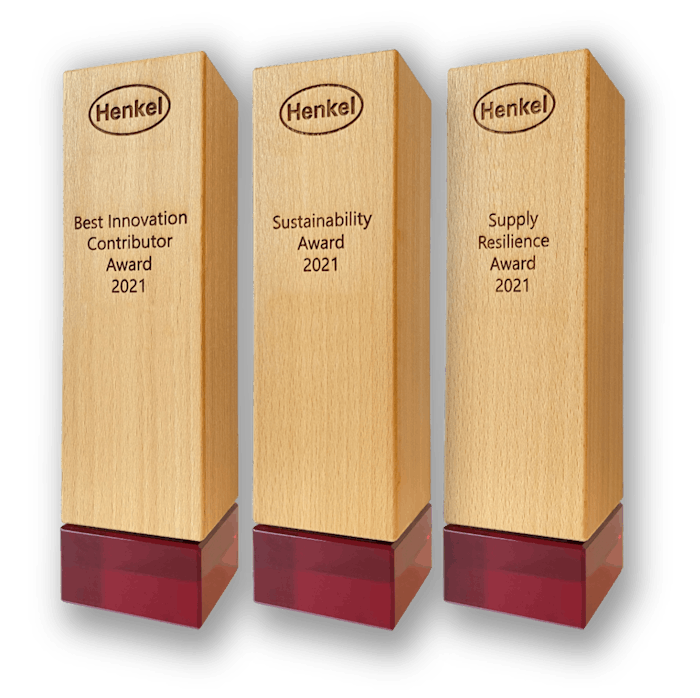 Sasol Chemicals received the 2021 Henkel Beauty Care Sustainability Award for its high-purity oleo-chemical-based paraffin emollient line, Parafol, which is used as an alternative for silicone oils in Henkel's Fa deodorant brand.
Related: Product of the Year USA Announces 2022 Winners
Each year Henkel recognizes its top suppliers with the award, showcasing an innovative product used to make more sustainable deodorants.
The Parafol line is part of Sasol Chemicals' broad range of ingredients and solutions for personal care and cosmetics applications. Parafol products spread, evaporate and dry quickly, helping them to distribute other ingredients smoothly and evenly without an oily feel. The products can be used for replacing light and volatile silicone oils like cyclomethicone and volatile dimethicones to enable more environmentally friendly formulations.
See related: Henkel Acquiring Shiseido's Asia-Pacific Hair Professional Business
Frank Meyer, Henkel's corporate vice president of R&D for beauty care, said, "We thank Sasol Chemicals for its expertise in replacing silicone oil with a sustainably sourced high-purity paraffin. This helps us implement our sustainability and performance roadmap."
Silke Hoppe, vice president of essential care chemicals of Sasol Chemicals, said, "Sustainability is a key driver of Sasol Chemicals' strategy, and our unique chemistry and focus on exceptional product performance provide opportunities to partner with customers to answer the broader, global sustainability call. We're delighted to be recognized for helping our long-term partner Henkel make its products more sustainable."