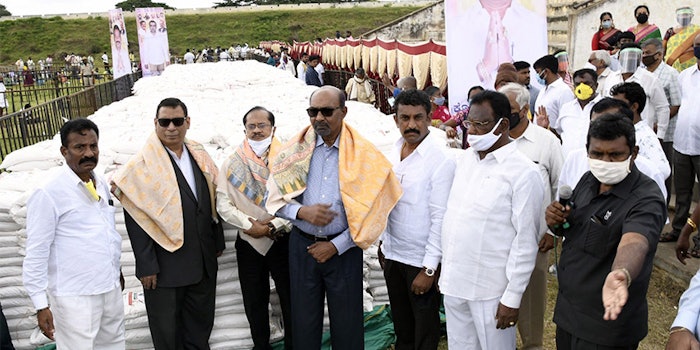 The Dr. Majeed Foundation, established by Muhammed Majeed, Ph.D., the founder and chairman of Sami-Sabinsa Group, recently donated 5,500 rice bags to communities in Karnataka, India.
Related: Sabinsa's Research Shows Lactosporin as Anti-acne and -aging Active
The 10-kg bags of rice went to people of Magadi, Karnataka—an area hit with food insecurity after the pandemic—in an event organized in partnership with the Kempegowda Development Committee. Madhu Subramanian, director, Sami-Sabinsa Group, and state president H.M. Krishnamurthy, Ph.D., Kempegowda Development Committee, inaugurated the event and participated in the distribution.
Majeed said, "The poorest people in India have been hardest hit during this pandemic, so I wanted to help. While many of the foundation's programs are focused upon helping poor children receive an education so they have a brighter future, right now they are just trying to survive. I'm glad to be able to help these families."