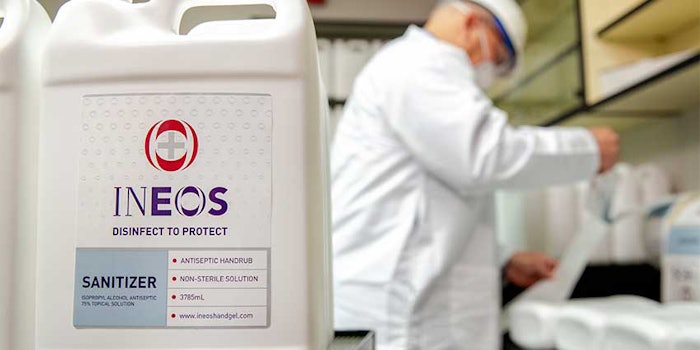 INEOS has built two new hand sanitizer plants in the United States in part to provide hand sanitizer to hospitals for free in response to COVID-19.
Related: EXO Presents Moisturizing Soap and Scented Sanitizer to Fight COVID-19
The facilities are located in the states of Arkansas and Pennsylvania, where each site will produce one million bottles of hand sanitizer each month to help with the nationwide shortage. These will be produced according to World Health Organization specifications, specifically designed to kill bacteria and viruses.
With an urgency to produce more hand sanitizers due to the national shortage, INEOS has made a priority to donate supplies to hospitals for free while consumers can purchase bottles through retailers that are selling INEOS hand sanitizer.
Production in Arkansas started at the beginning of May and is producing 3,600 gallons a day. The first deliveries have been made to local Arkansas hospitals and the company plans on making deliveries to other COVID-19 hotspots across the country. Production and distribution in Pennsylvania started shortly after Arkansas, as have donations of hand sanitizers to hospitals in not just Pennsylvania but in Ohio, New Jersey and New York.
Previously: MedZone Hones in on Natural Face Balm
INEOS has already built hand sanitizer facilities in the UK, Germany and France to supply four million bottles across Europe to help internationally as well.
Sir Jim Ratcliffe, founder and chairman of INEOS adds, "We will supply a million bottles of hand sanitizer a month from each of our new plants in Arkansas and Pennsylvania, with the same again in the UK, France and Germany. If we can find other ways to help in the coronavirus battle, we will remain absolutely committed to playing our part." 
The U.S. Department of Homeland Security has described products from INEOS as "critical to ensuring national resilience" in their COVID-19 response.