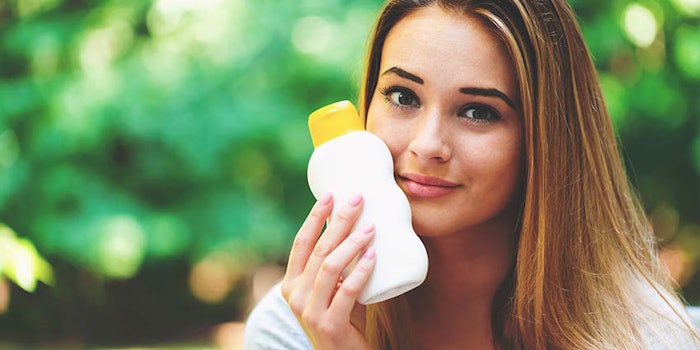 Bio-on's Minerv Bio Cosmetics product is an environmentally friendly technology in the form of bioplastic microspheres. Now, the ingredient has been awarded the "Best Practices" distinction for new product innovation by market research firm Frost & Sullivan.
The polyhydroxybutyrate (PHB)-based ingredient resembles a powder and is available in various sizes. Highly porous, the bioplastic microcapsules can be loaded with active ingredients to deliver benefits in cosmetic creams, mattifying powders, sunscreens and other applications. The winning microspheres were selected from the Bio-based Ingredients for the Cosmetics Industry category. 
Related: Bio-on Derives SPF-boosting Micro Powder from Renewable Bioplastic
The ingredient's biodegradable properties—in both marine water and soil—are partly what distinguished it for Frost & Sullivan analysts, which described it as "incredibly versatile" and "a sustainable alternative to synthetic polymers for use in not only cosmetics, but also in the food, health care, packaging and FMCG industries."
In fact, looking ahead, such materials could provide a potential solution for cancer treatment, thanks to the ability of the microspheres to act as a carrier for active substances.
Outlining its reasons for the award, Frost & Sullivan analysts wrote, "Bio-on SpA of Italy has developed an innovative range of patented biopolymers called PHAs (polyhydroxyalkanoates) under the brand Minerv. [These] PHAs can be used as cosmetics ingredients because they are based on PHB, which is a fully biodegradable PHA. For this reason, [they] can be easily biodegraded in both marine water and soil yielding simple by-products such as carbon dioxide and water."
Further, the biopolymers can replace PET, PP, PE, HDPE and LDPE, which according to Bio-on are widely used in cosmetics such as lipstick, lip gloss, mascara, eye-liner, nail polish, creams, shampoos, shower gels and toothpastes.
"Bio-on is properly positioned to serve as a leader in the bio-polymeric ingredient revolution for the cosmetics industry," Frost & Sullivan concluded.