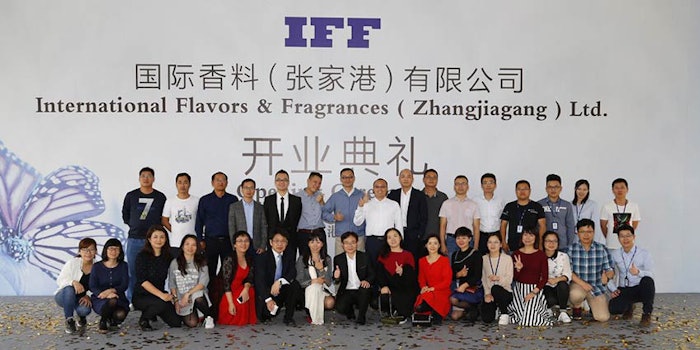 @IFF/ via Twitter.com
The Zhangjiagang facility will focus on optimizing sustainable processes, such as water reusage; while the lab in Nanjing Life Science Park will leverage the botanical supply chain in China.
The flavors manufacturing facility in the Zhangjiagang Free Trade Zone has been designed to supplement International Flavors and Fragrances' (IFF) existing flavors and manufacturing operations in Guangzhou. Spanning 66,800 square meters, the site includes a main manufacturing building that is fitted with a strong odor control system, quality control labs and an ambient warehouse for goods. The facility reuses all water on-site, resulting in zero liquid discharge. The site will initially focus on powder flavor production, with additional flavor technologies coming on line in a phased approach.  
Related: [update] IFF Completes Frutarom Merger
The natural product research lab in Nanjing Life Science Park is the company's first outside of the United States. The 520 square meter lab is equipped with state-of-the-art systems for researching and developing flavors from natural sources, and is strategically located to leverage the botanical supply chain, biodiversity and botanical and phytochemical knowledge found throughout China.
The site will expand IFF's capabilities in natural product research, and address the accelerating consumer demand for naturals and clean label. An extension of the current natural product research team based in Union Beach, N.J., the facility is expected to accelerate the company's natural product pipeline.
"China is a critical component of our long-term strategy," said Andreas Fibig, IFF chairman and CEO. "The opening of these new sites will support our efforts to be a partner of choice and to grow in this exciting region. Our presence in Zhangjiagang allows us to better serve our Chinese customers and focus on driving differentiated products within the broader greater Asian market and beyond." Mr. Fibig continued, "Ever-mindful of the value of naturals for consumers around the world, the output of the new naturals lab is not limited by region. It is an opportunity to combine our discoveries with our innovative technologies to create winning solutions for our global customers."