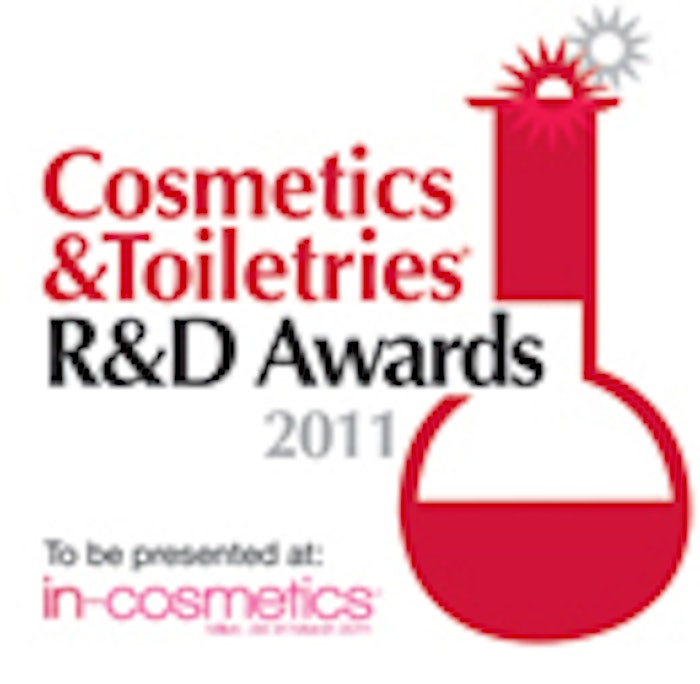 Cosmetics & Toiletries magazine has announced the finalists for its 2011 R&D Awards, which will honor one new ingredient for its innovative design and one finished product for the novelty and craft of its formulation. Finalists were chosen based on the ratings of 12 international experts in the cosmetics industry, from a mix of manufacturers and universities. Ratings were based on significance to the industry and long-term impact. These finalists now move on to the final round, where a separate panel of judges will rate the entries. Winners will be announced at In-Cosmetics in Milan this March.
In the Best New Technology category, the finalists are:
Beiersdorf AG, for its Glycerylglucose (Gluco-Glycerol) moisturizing technology: This technology supports skin's own natural moisturization by acting on an aquaporin subfamily in the skin involved in the transport of small solutes, such as glycerol, to distribute moisture in the layers of the epidermis. In vivo measurements revealed a significant reduction in transepidermal water loss (TEWL) after the use of topical formulations containing Gluco-Glycerol. Further, the effects of the technology may not only be mediated by supply of water and glycerol, but also extend to improving the permeability barrier function. Thus, this technology represents a new way to moisturize the skin, inspired by the skin itself.
X-Rite Inc., for its VS450 non-contact spectrophotometer: This device provides a non-contact means to measure the colors of products in production and lab environments as consumers see them at point of purchase. The VS450 spectrophotometer measures a product's color without touching the sample surface, yielding truer results. This technology eliminates common problems associated with contact based measurements such as surface distortion, ambient light, inconsistencies of transparent barriers and contamination. By producing truer measurements, the device improves product quality, reduces waste and speeds the development of new products.
Silab, for its Retilactyl D natural anti-aging active: Through its rich glucans and rhamnogalacturonans content purified from black pepper (Piper nigrum) berries, Retilactyl D preserves the functions of the reticular dermis, thus combating the slackening of tissues and reinforcing the structure, strength and repair capacities of the reticular dermis. The technology acts by increasing the adhesion, contractile and migration capacities of photo-aged fibroblasts; increasing collagen, elastin and integrin 2 1 expression; and stimulating the expression of matrix signaling molecules such as connective tissue growth factor. This ingredient is therefore the first natural active ingredient that targets the reticular dermis.
Croda Europe Ltd., for its Solaveil SpeXtra inorganic UV absorber: This inorganic UV filter is based on titanium dioxide and enables the production of high SPF sunscreen products that meet the European Commission's 1/3 UVA protection factor guidelines. While other sunscreens have been produced that meet these guidelines, they are based on cocktails of ingredients that are sometimes unsuitable for sensitive skin, and whose SPF performance is often limited. Solaveil SpeXtra is a single, natural, photostable technology developed via a new thermal process for treating inorganic particles to ensure that exact particle sizes are achieved to block UVA radiation while maintaining SPF performance.
In the Most Creative Application category, the finalists are:
Immanence Integral Dermo-Correction (IDC), for its Ultim-Age mature skin care: This product is designed for mature skin and simultaneously addresses all the major known molecular events involved in skin aging. These mechanisms include: hydration, barrier function, oxidation, DNA damage and repair, energy production, oxygenation, immunity, pigmentation, keratinization, skin cohesion, protein modification, cell anchoring, glycation, extracellular matrix (ECM) turnover, ECM integrity, inflammation and microcirculation. Ultim-Age successfully integrates 45 carefully selected, complimentary actives for a total of 70 activities, providing the highest concentration of actives (42% w/w) ever formulated into skin care.
Skin Health Technology, LLC, for its vitamin D UV activation sensors: This product addresses recent industry concern that the use of sunscreens may cause vitamin D deficiency. Since the most efficient way to replenish vitamin D levels is by exposure to sunlight, these sensors were developed to allow skin exposure to the minimum dosage of sunlight required for the body to produce vitamin D before signaling the user that it is time to apply sunscreen. This indicator is triggered well before a minimal erythemal dose is received; after just enough exposure has taken place, the sun graphic fades away and a visible letter D appears, indicating it is time to apply sunscreen.
Iredale Mineral Cosmetics, for its Tantasia natural self-tanner: This formula works with the user's own melanin to develop a safe, long-lasting and natural tan. Acetyl tyrosine and Monk's Pepper stimulate melanin synthesis, allowing the developing shade to mimic the user's natural tanned color. The contribution of both ingredients activates a regular, even and persistent tan while simultaneously enhancing the natural protection factor of the skin against UV radiation. Further, wheat protein provides soothing, natural hydration while vegetable-sourced natural silicone imparts a silky feeling. This product is reportedly free from any after-scent, and has been sensitivity-tested for use on the body or face.
Better Way (Thailand) Co., Ltd., for its Mistine No. 1 Fusion High Definition Powder Foundation SPF 25: This product concept fuses high definition (HD) color makeup with skin care for long-term health and beauty. The color aspect includes an HD Radiant System based on mica for a natural, transparent look. In addition, a light modifier powder—i.e., hexagonal boron nitride—and blue pearl pigment are used to impart radiance. Further, an Advanced Powder Crushing technology is used to render particles so they are smoothly distributed. For skin health, a high sheer adsorption technique is used to modify the Hydrofill Complex to introduce it into anhydrous products such as powder. This complex includes extracts, UV filters, antioxidants and anti-inflammatories, among other ingredients, to provide skin benefits.