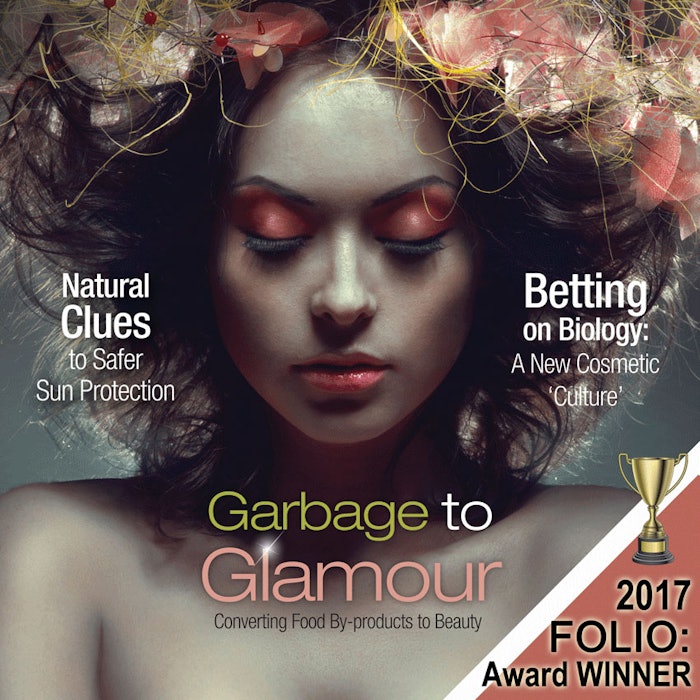 Today, excellence won. Cosmetics & Toiletries—the premiere brand for technical content to advance the art and science of cosmetics and personal care products—received a Folio: award for the February 2017 issue on "Garbage to Glamour."
For 100+ years, cosmetic chemists from around the world have relied on Cosmetics & Toiletries as a trusted resource for peer-reviewed articles, expert insight and more. Now, it has earned the distinguished support of the publishing community.
"It's a great feeling to be recognized among publishing peers," said Rachel Grabenhofer, managing editor of Cosmetics & Toiletries. "It's also a proud moment for me, as I've watched this brand dynamically evolve over the past 16 years."
How has Cosmetics & Toiletries helped your career? Send us an e-mail, we'd love to know.
Folio: is an organization for magazine publishing professionals. For more than 20 years, its Eddie & Ozzie Awards have recognized excellence in magazine editorial and design across all industries. This year, Cosmetics & Toiletries took the Eddie award in the B-to-B Supply Chain/Product Development category for its full February 2017 issue.
In the issue, the lead article, "Garbage to Glamour," set the tone for a seamless collection of multimedia content on natural, green and sustainable solutions for cosmetics and personal care products; for example, ingredients derived from food by-products, microbes and fermentation.
More than 2,800 Eddie & Ozzie entries were narrowed down by a panel of 300 judges to roughly 1,000 finalists. From there, the winners were chosen and presented during a luncheon held on Oct. 11, 2017.
"I think in the B-to-B space, it's sometimes difficult to see the time and effort you put into editorial or design excellence as making a difference," added Grabenhofer. "Sure, loyal readers and advisors pat you on the back but when professionals in your own field acknowledge it, the impact is even greater. I am honored by and grateful for this award."
Take another look at this award-winning issue.