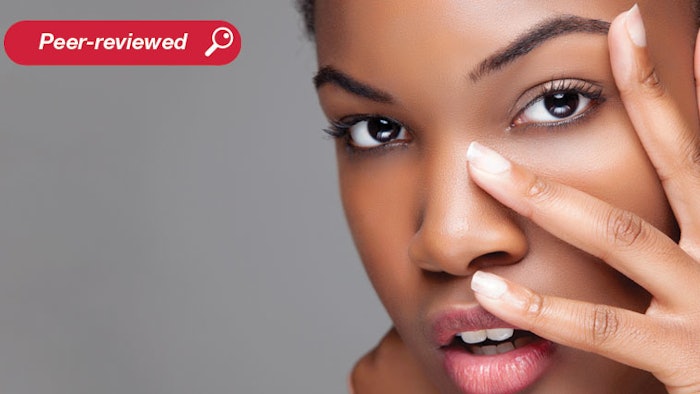 For the full version read the February edition of C&T Magazine
Acne is a common skin condition affecting about 90% of people worldwide at some point in life. It is a multifactorial disorder influenced by hormones, stress and genetic and environmental factors. At the pathophysiological level, excess sebum production, inflammatory mediators, follicular hyperkeratinization and bacterial colonization are well-known contributors.
Acne flares have long been associated with the over-proliferation of Cutibacterium acnes, resulting in the widespread use of antibiotics as a cure. However, with advances in metagenomics, a new paradigm has emerged that points to dysbiosis of the skin microbiome (microbiota genome) – particularly, an imbalance between C. acnes strains – as the cause rather than bacterial hyperproliferation.1
C. acnes forms a large family comprising six phylotypes (IA1, IA2, IB, IC, II and III) and hundreds of ribotypes, including several types of acneic (e.g., RT4 and RT5) and non-acneic (e.g., RT6) strains.2 The genome of C. acnes has been denoted by the term acnebiomea.
Healthy skin and acneic skin have different distribution profiles of C. acnes strains. For example, phylotype IA1 and ribotypes RT4 and RT5 are prevalent in acne-prone skin versus phylotype II and ribotype RT6, which are in healthy skin. Non-acneic strains are beneficial for skin heath, as they maintain a low pH that limits skin colonization by pathogens. For their part, acneic strains carry a linear plasmid that facilitates pathogenic biofilm formation, colonization and virulence.2
A decrease in the acnebiome phylotype diversity in favor of acneic strains is observed in acne-prone skin in association with the activation of innate immunity and skin inflammation.1 Thus, rather than eradicating C. acnes, acne treatment should aim at preventing and treating dysbiosis.
With this purpose in mind, a dendrimer (see Figure 1) composed of 48 naturally derived lysines was engineered in accordance with the principles of green chemistry. Lysine is an essential amino acid that can easily fit within bacterial cell membranes. Such insertion destabilizes the membrane structure, thus limiting bacterial proliferation.
When polymerized as a dendrimer 3D structure, the antibacterial power of lysine is increased due to better distribution and accessibility of charges (NH+). The positive charges of the dendrimer preferentially interact with the more negatively charged acneic strains of C. acnes, leaving non-acneic strains untouched; indeed, earlier studies have shown that polylysine dendrimer impacts no other skin microorganisms besides C. acnes.3
As described here, the effects of the dendrimer were tested in vitro against biofilm formation. A clinical study also was carried out examining the ingredient's impact on C. acnes phenotype distribution and inflammatory and non-inflammatory acne lesions.
For the full version read the February edition of C&T Magazine
References
Dréno, B., Dagnelie, M.A., Khammari, A. and Corvec, S. (2020). The skin microbiome: A new actor in inflammatory acne. Amer J Clin Derm. 21(suppl 1) 18-24.
Lee, Y.B., Byun, E.J. and Kim, H.S. (2019). Potential role of the microbiome in acne: A comprehensive review. J Clin Med. 8(7) 987.
Attia-Vigneau, J., Barreau, M., Le Toquin, E., Feuilloley, M., Loing, E. and Lesouhaitier, O. (2022). Polylysine dendrigraft is able to differentially impact Cutibacterium acnes strains preventing acneic skin. Exper Derm. 31(7) 1056-1064.