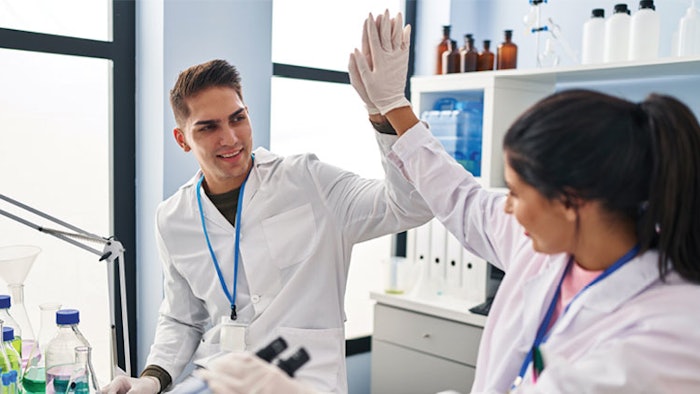 With the ever-growing demands faced by the FMCG industry, "R&D is the foremost innovative factor," writes the SkyQuest Technology Group market intel/innovation management firm.1 Now more than ever, companies must efficiently address changing consumer demands, so according to the firm, strategically improving the functionality of innovation and adapting to these changes is "the need of the hour."1
Our industry lives and breathes R&D nearly every minute of every day, and has committed resources to its success. From 2020-2021, investments in R&D were increased: 2% by Procter & Gamble, 8% by Unilever and 16% by The Estée Lauder Cos. In 2021, cosmetic companies having the highest R&D intensity (ratio of R&D investment to revenue earned in the same year) included L'Oréal, Kao Corp. and Shiseido.1 Even the U.S. Government, in its 2023 Budget, increased the allowance for basic and applied research by 29% over 2021.2
While economist and Harvard business professor Theodore Levitt differentiated creativity as "thinking up new things" and innovation as "doing new things," it takes both for cosmetics R&D success; paired with the right timing. This edition of Cosmetics & Toiletries (C&T) is a special celebration of all of these – illuminated through the C&T Allē Awards spotlight.
Starting on Page 16, we pay tribute to winning innovations and the R&D minds/teams behind them with congratulatory quotes/notes from their respective companies and brands. We also share insights from the judges on trends in the overall award entries and cosmetics market in general.
In the spirit of innovation, on Page 36,this issue also considers senolytics as a novel approach to revive aging skin, and ideas for holistic photoprotection on Page 26. N-Acetylglucosamine is proposed on Page 44 to target signs of photoaging and inflammation, while reversing dysbiosis for anti-acne effects is explored on Page 42.
Upcycled cracked rice is described on Page 30 as a sustainable sensory modifier, while our Expert Opinions piece on Page 14 shares current and future views of skin barrier protection. We hope our latest issue is timed just right to meet your project needs of the hour – or moment.
References
https://skyquestt.com/insights/research-and-development-in-FMCG-industry
https://www.whitehouse.gov/wp-content/uploads/2022/04/ap_18_research_fy2023.pdf