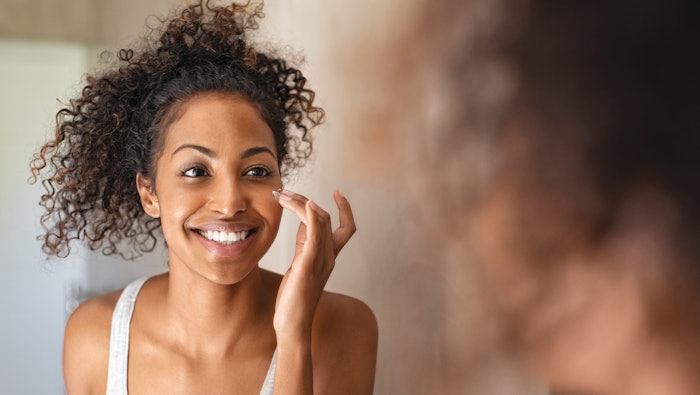 Read the full article in the Nov/Dec edition of C&T magazine
Psychological stress is a prevalent aspect of life and generally associated with skin diseases, dermatoses, atopic dermatitis and psoriasis, collectively referred to as psychodermatology disorders.1, 2 Psychodermatology is now prominent within the field of dermatology and it has been reported that 30% to 40% of patients experience psychological problems related to their dermatological symptoms.3
It is also well-documented that psychological stress perturbs epidermal permeability barrier homeostasis and is associated with delayed wound healing. Thus, reduced psychological stress by meditation, biofeedback or other stress-reduction techniques may benefit skin barrier homeostasis and decrease the gravity of some psychodermatology disorders.4, 5
To deal with everyday stress and reduce its impact on skin barrier disorders, the authors explored the link between the nervous and endocrine system, also taking into consideration the fact that a lack of gentle touch has been associated with greater anxiety as well as psychosocial stress.6
The skin is a sensory organ that comes into direct contact with environmental stimuli. At the skin level, touch and proprioception involve the piezo1 and piezo2 mechanoreceptors. Piezo1 is expressed in keratinocytes and is critical for normal sensory and behavioral responses to mechanical stimuli. Piezo2 is expressed in Merckel cells and is critical for many aspects of gentle touch and proprioception.
Both mechanoreceptors mediate touch sensation by detecting and encoding tactile information to sensory neurons.7-9 Moreover, several studies suggest that pleasant touch is associated with the release of oxytocin (OXT), a molecule linked to increased levels of social interaction, well-being and anti-stress effects.10 OXT is mainly produced in the hypothalamus but also is expressed in epidermal keratinocytes, fibroblasts and human skin, and may be involved in wound healing and inflammation.11
The present article describes work to first examine in vitro the role of piezo1 in skin's barrier function and its relationship with the oxytocinergic pathway. Second, the potential of a botanical extract-based formula to activate the piezo1 mechanoreceptor for well-being, OXT release and skin barrier function was evaluated in an objective clinical study.
Read the full article in the Nov/Dec edition of C&T magazine
References
Torales, J., Malvido, K., ... O'Higgins, M., et al. (2021, Nov 11). Atopic dermatitis in psychodermatology: A concise review for dermatologists. Ital J Dermatol Venerol; doi: 10.23736/S2784-8671.21.07139-5 (epub ahead of print); PMID: 34761667.
Jafferany, M. (2007). Psychodermatology: A guide to understanding common psychocutaneous disorders. Prim Care Companion J Clin Psychiatry 9(3) 203-13; doi: 10.4088/pcc.v09n0306; PMID: 17632653; PMCID: PMC1911167.
MaiKhanh Nguyen, C., Danesh, M., Beroukhim, K., Sorenson, E., Leon, A. and Koo, J. (2015 May). Psychodermatology: A review. Practical Derm 49-54.
Garg, A., Chren, M.M., Sands, L.P., Matsui, M.S., Marenus, K.D., Feingold, K.R. and Elias, P.M. (2001 Jan). Psychological stress perturbs epidermal permeability barrier homeostasis: Implications for the pathogenesis of stress-associated skin disorders. Arch Dermatol 137(1):53-9. doi: 10.1001/archderm.137.1.53. PMID: 11176661.
Fukuda, S., Baba, S. and Akasak, T. (2015 Feb). Psychological stress has the potential to cause a decline in the epidermal permeability barrier function of the horny layer. Int J Cosmet Sci 37(1) 63-9; doi: 10.1111/ics.12169; epub Oct. 28, 2014; PMID: 25298045.
Robles, T.F., Brooks, K.P., Kane, H.S. and Schetter, C.D. (2013 Jun). Attachment, skin deep? Relationships between adult attachment and skin barrier recovery. Int J Psychophysiol 88(3) 241-52; doi: 10.1016/j.ijpsycho.2012.04.007; epub (2012, Apr 27); PMID: 22546664; PMCID: PMC3467323.
Wu, J., Lewis, A.H. and Grandl, J. (2017 Jan). Touch, tension and transduction–The function and regulation of piezo ion channels. Trends Biochem Sci 42(1) 57-71; doi: 10.1016/j.tibs.2016.09.004; epub (2016, Oct); PMID: 27743844; PMCID: PMC5407468.
Moehring, F., Mikesell, A.R, Sadler, K.E, Menzel, A.D. and Stucky, C.L. (2020, Jul 19). Piezo1 mediates keratinocyte mechanotransduction. bioRxiv doi: https://doi.org/10.1101/2020.07.19.211086
Woo, S.H., Lukacs, V., ... Patapoutian, A., et al. (2015 Dec). Piezo2 is the principal mechanotransduction channel for proprioception. Nat Neurosci 18(12) 1756-62; doi: 10.1038/nn.4162; epub (2015, Nov 9) PMID: 26551544; PMCID: PMC4661126.
Portnova, G.V., Proskurnina, E.V., Sokolova, S.V., Skorokhodov, I.V. and Varlamov, A.A. (2020 Oct). Perceived pleasantness of gentle touch in healthy individuals is related to salivary oxytocin response and EEG markers of arousal. Exp Brain Res 238(10) 2257-2268; doi: 10.1007/s00221-020-05891-y; epub (2020, Jul 27) PMID: 32719908.
Deing, V., Roggenkamp, D., ... Neufang, G., et al. (2103 Jun). Oxytocin modulates proliferation and stress responses of human skin cells: Implications for atopic dermatitis. Exp Dermatol 22(6) 399-405; doi: 10.1111/exd.12155. PMID: 23711064.