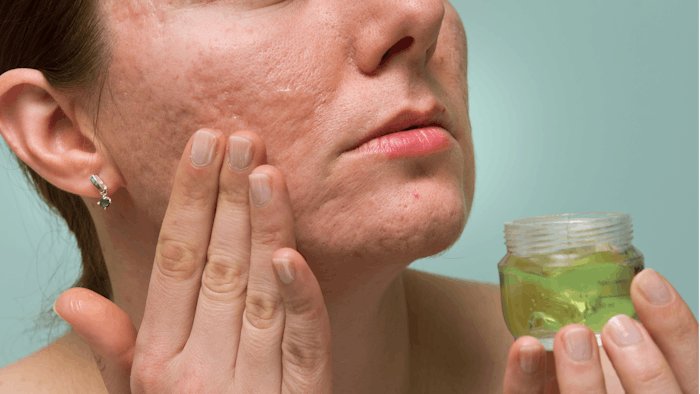 "Maskne," or mask acne, is a rising problem that consumers and formulators alike are trying to tackle. Many individuals, especially health care workers, are wearing face masks for longer periods of time than ever before. These extended hours in the warm environment within the mask and added friction from wear can cause breakouts and sensitivity on the face.
Masks are an everyday necessity for most, so individuals cannot simply avoid wearing them. As such, new approaches are needed to prevent blemishes and irritation while still allowing consumers to wear masks.
Here, up-and-comer Abhi Jain—a junior at St. Mark's School in Texas, previous lab assistant at SASA Cosmetics, and experimenter at Microconsult, Inc.—shares his views on "maskne" causes and possible solutions. He also forecasts the future of mask-wearing and skin care, and describes a patent-pending "maskne" gel he designed to both prevent mask-related breakouts and irritation, as well as serve as a hand sanitizer. The following is adapted from a longer video interview; see Page 8 in the digital magazine to view it.
C&T: Can you describe the "maskne" phenomenon?
AJ: "Maskne" is acne or breakouts caused by wearing a [face] mask. Dermatologists refer to "maskne" as Acne mechanica, and this term was created long before the pandemic. "Maskne" has not only been a problem for those in the medical field, but also sports players and in [regions] where wearing a mask is more common, such as Asian countries. A lot of masks are made of nylon, paper materials or natural fibers and while they're great for breathability, they don't necessarily meet the filtration rating. Right now, cotton-based masks seem to be most effective for breathability, filtration and to prevent a moist and hot environment where "maskne" seems to thrive.
C&T: How are cosmetic developers meeting this rising consumer need?
AJ: Companies are promoting existing products meant for acne toward the "maskne" phenomenon. With that, there has been a rise in ingredients typically used for acne, such as salicylic acid, hyaluronic acid and more.
My invention is a "maskne" gel that is alcohol- and salicylic acid-free. And while it can be used to combat "maskne," it also functions as a hand sanitizer. The gel addresses breakouts caused by long mask-wearing and irritation from mask friction. What sets this product apart is that the ingredients in it can be used even before putting on a mask.
C&T: How else might masks affect skin?
AJ: Since medical workers must wear masks for long hours, this can cause inflammation and disrupt the skin's microbiome. Furthermore, the mask must be tight-fitting to prevent disease, which can cause abrasions and cuts as well.
C&T: Do you think face masks will be more commonly used after COVID-19?
AJ: I think they will be more common because we don't yet know how immune systems will respond to individuals who have contracted COVID-19. I think it's possible that other countries will follow suit with some Asian countries, where masks will be utilized more often to prevent infection, even if an individual just has symptoms of an illness.
In addition, novel innovations are making face masks more popular. For example, masks are being designed with clear barriers to help those who are deaf or hard of hearing communicate better. So whether stylistically or materially, as new mask inventions emerge, I think other regions will adopt mask-wearing since more options will be available for each individual.
C&T: How do you think the rise in "maskne" and mask wearing will affect the future landscape of cosmetic product categories?
AJ: I believe there will be a demand in "maskne"-related products, with cosmetic companies producing new and improved innovations. I have already noticed an increase in antibacterial cosmetics and I think this will expand in products not only for teens, but adults as well.
Although facial makeup has dropped in demand due to COVID-19, I'm sure consumers will be open to using cosmetics with antibacterial properties. It also seems that eye makeup is becoming a focus, almost like the new lipstick, since the eyes are the only thing people can see.
I'm looking forward to seeing what innovations are created due to the large demand in face masks.