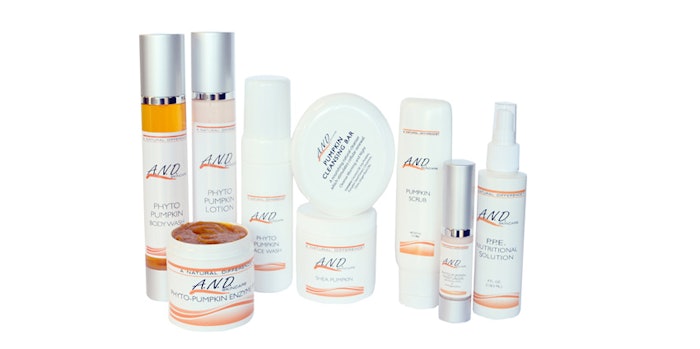 What began 26 years ago with the original Phyto Enzyme Pumpkin Peel has grown into a full line of professional skin care products to indulge the face as well as the whole body, providing a healthy, seasonal passage into the fall season.
The Mighty Pumpkin
The mighty pumpkin, when fermented, contains more than 100 nutrients, including protein-building amino acids and moisturizing fatty acids. It's not surprising that the skin gratefully accepts these nutrients and responds by producing a very happy, healthy glow.
Suitable for all skin types, the fermented pumpkin enzyme offers up benefits to both dry and oily skin, producing results in a natural way. The natural exfoliation process removes unwanted debris from pores, enhances cellular regeneration and enables the skin to better absorb active ingredients, such as concentrated serums and moisturizers.
The Importance of Peels
Christine Cowheard, founder of A Natural Difference, believes that fruit enzyme peels are incredibly useful in the biological process of the skin cells. They have the proprietary combination of super fruits. The treatment of the future will undoubtedly include fruit enzymes, because they are safe and superior in providing overall healthy benefits to the skin. According to Cowheard, "A condition-specific peel is the basic foundation for any successful facial treatment."
In addition to fruit enzyme peels, A Natural Difference offers a full line of peeling products, including: light, progressive, medium and deep peels. For the experienced esthetician, there are advanced treatment options that utilize combinations of enzyme fruit peeling agents and serums to obtain remarkable results on tough skin conditions. Please ask for Pumped-Up Protocols for in-depth solutions to problematic skin conditions.
About A Natural Difference Skincare
A Natural Difference Skincare is a U.S.-based skin care manufacturer with corporate operations based out of Indian Trail, North Carolina. They are honored to join the ranks of other major U.S. skin care manufacturers in exporting their product line to Europe and Australia. To receive European Union (EU) approval, a manufacturer must be reviewed and approved by two separate government laboratories in Germany. Both laboratories analyze and test submitted products and individual ingredients with two testing formats.
Founder Christine Cowheard has been on the industry forefront for over 26 years. "The science of skin care as nature intended" was her original concept and remains her philosophy. Ingredients and terms, such as spin traps, chirality, epidermal growth factor, oligopeptides, neuropeptides and most recently, osmoprotectants can be found throughout their product line.
With more than 100 choices from serums, concentrates, glycolic polymers, moisturizers, scrubs, peels, masques and sun protection, you are sure to find your personal favorites to provide excellent results to your clients.