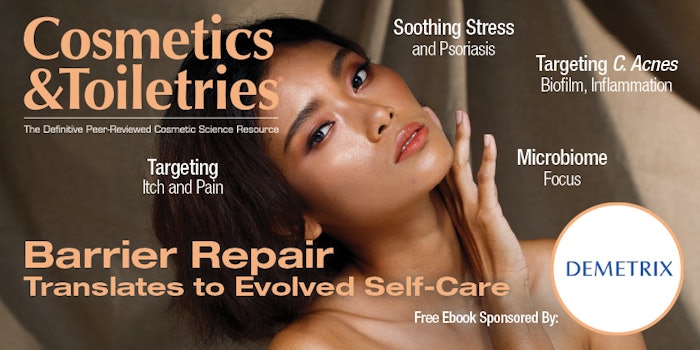 Dry, sensitive, damaged, diseased, aged – the notion of compromised skin carries with it multiple meanings. A quick Google search retrieves everything from tingly and inflamed skin, to skin presenting with redness and rashes, rosacea, eczema and psoriasis.
Perhaps the most straightforward explanation is skin impaired in performing its normal functions of keeping the bad stuff out and the good stuff in. This gives product developers more than enough targets to consider when formulating for compromised skin.
See related: Demetrix Initiates 2022 CBG Commercial Manufacturing Campaign
To support the development of barrier care products, we offer the free e-book before you. Barrier Care for Compromised Skin, sponsored by Demetrix, explores traditional barrier repair as a key component of evolved self-care. It considers methods to test products that soothe pain and itch, means to subdue C. acnes biofilm formation and inflammation, and traditional Chinese medicine to "cool" stressed and inflamed psoriatic skin.
Finally, it considers the microbiome as a major player and opportunity for barrier care, and provides a directory of select ingredients to soothe, repair, heal and calm the skin. We hope this free e-book is a useful tool in your pursuit to develop uncompromising skin care. Register now to get started; it's free.