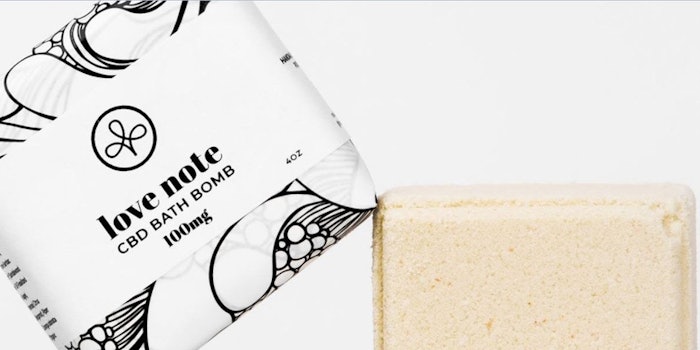 Make & Mary has added its CBD-based Love Note Bath Bomb, formulated with balancing oils, clays and aromas for consumers to indulge in their self care.
Related: Tauriga Sciences Launching CBG-infused Bath Bombs
When the bath bar is dropped into a warm bath, the soothing properties of pink sea salt, Dead Sea salt, Epsom salt, rose Kaylan clay and 100 mg of full spectrum CBD extract are said to nourish, soothe, soften and relax the body.
Love Note's combination of jasmine, sandalwood, amber, ylang-ylang and rose reportedly soothe the senses and leave consumers' skin feeling soft all over.
"This is the first product my daughter and I have made together—from scent formulation to final product," said Yvonne Perez Emerson, founder of Make & Mary. "It truly is a love note in all forms. But mostly, we wanted to create a special treat that you could indulge in. We wanted you to be able to soak in the love."
Ingredients: Sodium Bicarbonate, Non-GMO Citric Acid, Epsom Salt, Pink Himalayan Sea Salt, Dead Sea Salt, Rose Kaolin Clay, Coconut Oil (Cocos Nucifera L.), Cannabinoid Extract, Cream of Tartar, Jasminum Sambac L. (Jasmine Sambac 10%), Santalum Paniculatum (Sandalwood 10%), Oleum Succini (Amber Oil Fossilized 5%), Salvia Sclarea L. (Clary Sage), Cymbopgon Martinii (Palmarosa), Citrus Aurantium Var. Bergamia (Bergamot), Piper Nigrum L. (Black Pepper), Cananga Odorata Var. Genuina (Ylang Ylang).