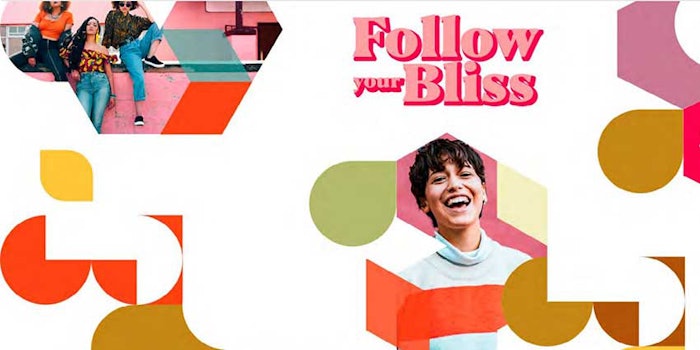 Gattefosse
Following the cancellation of the in-person Cosmet'Agora event, Gattefossé launched its 'Follow Your Bliss' collection of six prototype formulas grounded in nature with the help of the company's Inspiration formulating tool.
Related: Gattefossé Celebrates 140 Years with 16 Themes
The company's Inspiration tool is reportedly designed to enhance the user's imagination, creativity and innovation so formulators can discover sensorial experiences through cosmetic textures while learning about Gattefossé's ingredients. The tool inspires a new collection every year to keep up with current market trends.
For 2021, "Follow Your Bliss" is the over-arching collection, comprising two themes: "Coming Into Bloom" and "Taking Root." "Coming Into Bloom" refers to cosmetics becoming "clean" and more sustainable, while "Taking Root" connects with the essentials, putting a meaningful connection back at the heart of the company's projects.
According to the company, the formulas are simple and delicate, fully optimized and universal. Three formulas are presented under each of the two themes, as follows.
Coming Into Bloom
The three formulas in this collection include Banana Buttercream, Color Trans-foaming and Good Day Sunshine. Banana Buttercream is a melting butter fragranced with a banana scent and designed to nourish dry skin. Its thick and tender texture absorbs quickly and leaves a soft and comfortable film on the skin, without a greasy or sticky effect. This formula features Gatuline In-Tense MB (INCI: Caprylic/Capric Triglyceride (and) Acmella Oleracea Extract) and Gatuline Renew (INCI: Butylene Glycol (and) Water (Aqua) (and) Cryptomeria Japonica Bud Extract) for firmer and more radiant skin.
Previously: Gattefossé to Build its First U.S. Production Site in Texas
Color Trans-foaming is a facial mask, whereby the color and texture transform upon contact with water. To use the product, water is added the pale pink powder, after which the powder  turns into a tangy green, foamy cream, which is left on the skin for a few minutes before rinsing.
Finally, Good Day Sunshine is a body sunscreen that contains biodegradable glitter to give the skin a glowing appearance. Its fluid texture penetrates quickly, revealing sparkle on the skin with the help of Gatuline Radiance (INCI: Propanediol (and) Evodia Rutaecarpa Fruit Extract).
Taking Root
The three formulas in this collection are Pure Crystal Cream, Silky Putty, and Hair and Scalp Mud Mask. Pure Crystal Cream is a minimalist formula containing liquid crystals. This cream has a unique sensory profile provided by its stable structure, obtained without any gelling agents; slight translucent and shiny appearance; and mattifying effect upon application.
The Silky Putty formula looks like modeling clay and is intended to patch fine lines and wrinkles. Users apply a pea-sized ball, spreading it on the desired area after wetting, leaving it in place for 10-15 min, after which the patch is removed and the area is gently massaged to allow the rest of the product to penetrate and firm the skin.
Lastly, the Hair and Scalp Mud Mask is designed to purify and detoxify the hair and scalp due to its clay content, but can also rest on the hair because of its emulsified texture, which rinses easily. For very dry, frizzy hair, it should be used before shampooing by applying it to the scalp and hair lengths, where it is left for 10 min then rinsed, followed by shampooing.
For more information, contact Gattefossé.