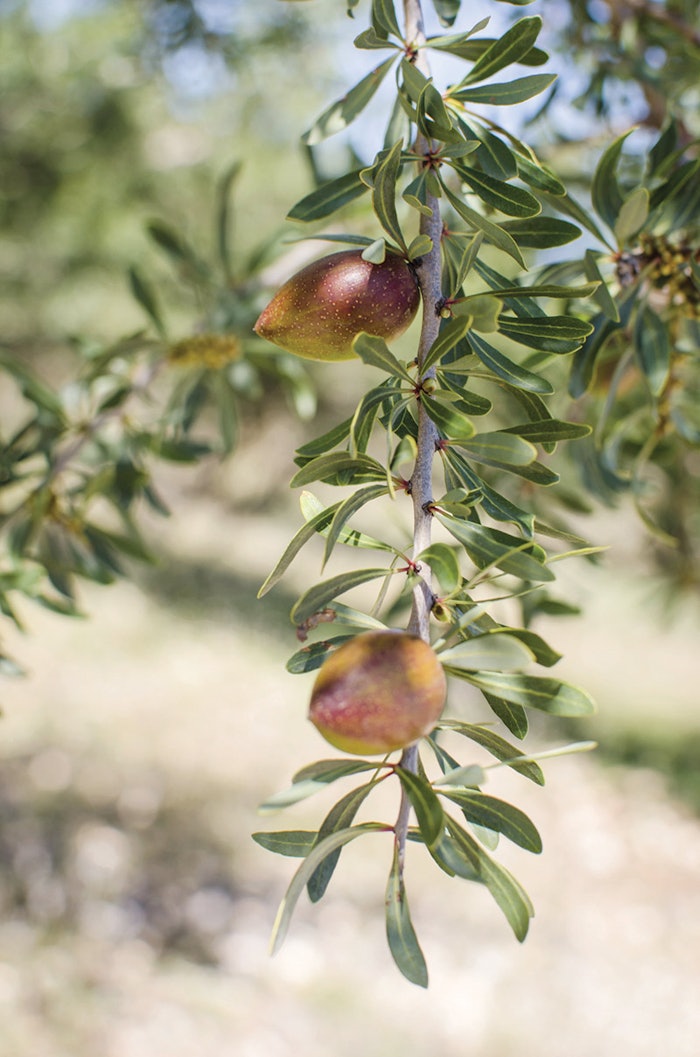 The argan tree—a secluded, fragile natural resource in Southern Morocco–has become a shining example of how blending business, ecological preservation and fair trade collaboration can result in a viable consumer product that enhances the economic lifestyle of those who produce it as well as preserving a specific ecosystem niche.
Argan Properties
The humble Argan tree (Argania spinosa) is an indigenous tree of South Morocco that lives up to 200 years. It endures the harsh climate of the region, and its roots provide a critical barrier against the encroaching desert.
Well-known among the locals for its "magical properties" the tree offers argan fruit, from which 1-3 kernels of a precious oil (see Argan seeds and oil) can be extracted. This oil is naturally rich in polyunsaturated linoleic acid (omega-6) and natural tocopherols. For centuries, Berber women have used this oil in traditional cooking recipes and ancestral beauty ritual
Recently, argan has had global appeal for its oil and the health benefits that the oil offers. However, traditional uses of argan for a variety of applications include: fruits for the oil, shells as fuel, oil-cake as cattle feed, leaves as goat feed and wood as building material and fuel. Due to BASF Care Creations' commitment to sustainability, in collaboration with the cooperative network and academia, BASF Care Creations has identified specific fractions of the argan tree that offer a variety of cosmetic applications. The results of this research delivered three different processes (oil extraction for argan oil; extraction of specific proteins from the oil cake, the by-product of the oil extraction; and extraction of polyphenols from the Argan leaves) to minimize waste and fully utilize the benefits that the argan tree has to offer.
Sustaining the Argan Tree
Like many valuable forest resources, the argan forest has suffered decline through over-explotation, soil erosion, deforestation and changing patterns of rural lifestyles. In 1998, the region was declared a Biosphere Reserve by the United Nations Educational, Scientific and Cultural Organization (UNESCO), and efforts to preserve this 80 million year old relic tree species began in earnest.
This internaional designation prompted Zoubida Charrouf, a professor at Rabat's Mohamed V University, to spearhead a ground-breaking partnership that explored argan ecosystem sustainability in conjunction with local women's cooperatives. In 2005, a novel approach to commercializing the tree began. The results included:
Identifying specific components of the Argan tree commercially valuable in the cosmetics industry; and
Creating an organic and fair-trade certified oil useful as a skin-tightening proteic oil extract and an anti-aging extract from the tree's leaves.
Following on the Convention of Biological Diversity objectives, this hallmark sustainability project, including a voluntary corporate approach to commercial use of the product in keeping with the project's goals, has had profoundly positive regional impacts, including:
Fair returns to the local population;
Local, eco-sensitive development, for production capacity;
A local cooperative approach fostering economic empowerment;
Smart and sustainable use of this precious resource;
Concerted conservation measures implemented in tandem with commercial growth; and
Respect and preservation of local traditional knowledge, with particular emphasis on the use and benefits of the argan tree.
A Global and Local Effect
Through thoughtful and methodical research into the properties of the tree—and how those properties could be best used commercially without destroying the tree's ecosystem, and in harmony with the local economy and with respect of the local population's needs— there is a vibrant commercial operation that brings a valuable cosmetic property to the world-at-large.
More importantly, the project has offered the local population a seat at the table to remain involved in the use and production of an indigenous product that has been a mainstay of their life and culture for centuries, ensuring that their beloved argan tree remains a staple of the local environment. In addition, a portion of any financial gains from the tree remains in the local economy, to help better the lives of all who live within view of this magnificent, aged tree.
Disclaimer:
Cosmetics & Toiletries occasionally seeks sponsored content—material that has been created, provided, or influenced by the named sponsor—from industry organizations, suppliers and other leaders dedicated to providing relevant information to industry professionals. Although there is a commercial benefit for Cosmetics & Toiletries, sponsored content also brings you, the user, useful industry information. Cosmetics & Toiletries takes meaningful steps to ensure that you will not confuse sponsored content with content produced by Cosmetics & Toiletries and governed by its editorial policy.
Disclaimer:
The above paid-for content was produced by and posted on behalf of the Sponsor. Content provided is generated solely by the Sponsor or its affiliates, and it is the Sponsor's responsi­bility for the accuracy, completeness and validity of all information included. Cosmetics & Toiletries takes steps to ensure that you will not confuse sponsored content with content produced by Cosmetics & Toiletries and governed by its editorial policy.