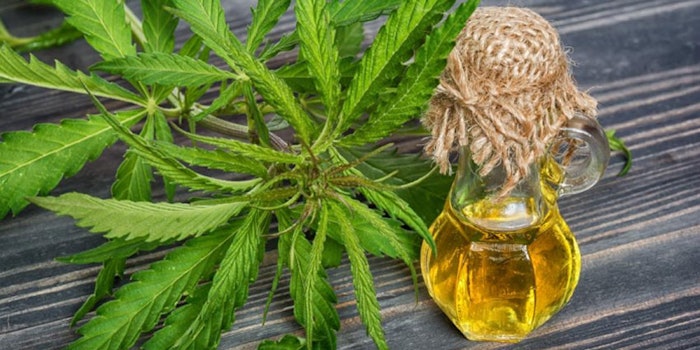 Cannabidiol (CBD) has a wide variety of medicinal, nutritional and cosmetic uses, according to ingredient supplier Extracts-Unlimited, LLC, which makes it an attractive multi-purpose ingredient.
As such, the company announced, to celebrate its three-year anniversary, it has added a line of CBD-based oils and butters to its portfoliio of natural botanical and organic oils, butters and extracts for application in cosmetics and personal care. The full line of complementary CBD/hemp oil ingredients provides CBD oil concentrations ranging from 1% to 25%. The oil combinations are low in THC and suitable for most topical applications.
David C. Fondots, president of the company, noted, "To our knowledge, no other supplier can offer, for immediate delivery, as full a range of CBD oils as we now have in our inventory."
Extracted from hemp, CBD contains naturally occurring phytocannabinoids. The company combines CBD with hemp seed oil, which itself is composed of 80% essential fatty acids—reportedly the highest of any plant. When applied to skin, the combined oil prevents the loss of moisture at a physiological level. Furthermore, hemp seed oil contains the ideal ratio of omegas-6 and -3, which also help to balance skin moisture. The company's CBD oils and butters can be used for body and face creams and lotions, as well as sunscreens.
CBD also provides anti-acne and anti-inflammatory properties, according to the company, making it suitable for relieving eczema and psoriasis. It also moisturizes the hair and scalp, keeping it hydrated and nourished.
For more information on the full range and benefits, contact Extracts-Unlimited, LLC.