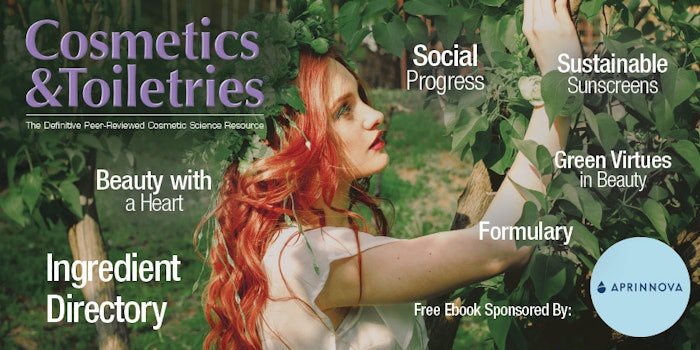 Product developers have heeded the call of consumers to create cleaner, more sustainable products, as well as find ways to positively affect the world.
Examples include fair trade initiatives, reducing plastic waste, upcycling from peripheral markets and more. Suppliers and manufacturers alike have embraced this responsibility and made honest efforts to move in this direction—which have become more apparent as companies are transparent in their communications. This reveals the true beauty in our industry.
Free E-book
This Product Developer's Guide to Sustainable, Ethical Beauty e-book before you, sponsored by Aprinnova, was developed with the same sustainable, responsible, green, etc., goals in mind. It includes articles, ingredients and prototype formulas to support your development of responsible beauty products.
There are many paths to sustainable, clean and responsible beauty. We hope this e-book helps you find yours. Download it now.
In conjunction with this e-book, gain crucial insights on clean beauty formulating from our free upcoming webinar: Essentials in Clean Beauty: Virtual Formulating Event. Also sponsored by Aprinnova, the webinar will be held on Oct. 26, 2021, at 11:00 a.m. CST; see registration page for details. Be among the first to register for a chance to receive Aprinnova's all-new clean beauty formulation kit to experience alongside the webinar.