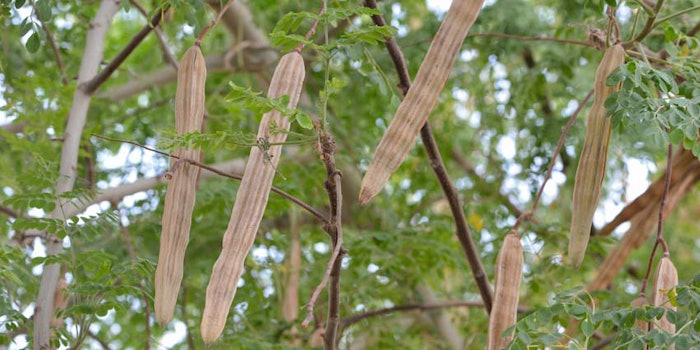 The natural 'goodness' of moringa oil has been known for thousands of years. The Romans recognized the properties of moringa oil and used it extensively in perfumes and to protect the skin.1 The Egyptians also identified its natural protective properties and used it to protect skin from harsh desert conditions. A venerated oil, vases of moringa oil were even found inside ancient tombs. The present article offers a review of the properties and reported benefits of this multifunctional natural.
Multifunctional Plant
Moringa was known to me as "drumstick" since childhood, as its long, slender seed pods or "drumsticks" were eaten as a vegetable in North India. The Moringa oleifera tree is also known by various nicknames such as moringa, drumstick tree, the ben oil tree, the miracle tree, the wonder tree and the tree of life. It is native to arid climates and sandy soil. Most moringa originates in India, at the foot of the Himalayas, but it is also grown in Thailand, Taiwan, Africa and the Philippines.
When I discovered its many uses, I was surprised by the utility of each and every part of the plant. Its leaves, fruit, seedpods, seeds, flowers and oil can be eaten, with the leaves and drumsticks most commonly consumed. Moringa is highly nutritious. It contains vitamins A, B, C and K, is high in protein and also contains minerals, fibers and other essential nutrients.
It has been hailed as a so-called superfood primarily because its leaves are very rich in antioxidants, including not only vitamin C, but also beta-carotene, quercetin and chlorogenic acid.2, 3 As an aside, chlorogenic acid has been shown to slow cells' absorption of sugar—one of humankind's worst enemies.
As stated in the Asian Pacific Journal of Cancer Prevention,4 "The leaves of the Moringa oleifera tree have been reported to demonstrate antioxidant activity due to [their] high amount of polyphenols. Moringa oleifera extracts of both mature and tender leaves exhibit strong antioxidant activity against free radicals, prevent oxidative damage to major biomolecules, and give significant protection against oxidative damage."
Moringa leaves also have been proposed as an iron-rich food source to combat iron deficiency. The seed pods/fruits, even when cooked by boiling, remain particularly high in vitamin C—which may be degraded variably by cooking—and are also a good source of potassium, magnesium and manganese.
The seeds, sometimes removed from more mature pods and eaten like peas or roasted like nuts, also contain high levels of vitamin C and moderate amounts of B vitamins and dietary minerals. Mature seeds yield 38-40% edible oil called "ben oil" due to their high concentration of behenic acid. As a fatty acid, behenic acid is important to help provide a protective barrier against the environment. It is used for its lubricant, emollient and soothing properties, which help to restore the skin's natural oils and improve overall levels of hydration.
Furthermore, this sebaceous fatty acid is favorably compatible with the skin's surface.5, 6 This refined oil is clear and odorless, and resists rancidity. The seedcake remaining after oil extraction may be used as a fertilizer or as a flocculent to purify water. Moringa seed oil also has potential for use as a biofuel. The roots are shredded and used as a condiment with sharp flavor qualities derived from their significant content of polyphenols. Finally, the bark, sap, gum, roots, leaves, seeds and flowers are used in traditional medicine.
Moringa in Cosmetics
Moringa oil is found in numerous cosmetics due to its stable7 moisturizing, cleansing and emollient properties. With high amount of oleic acid, ~72%, it penetrates deeply into the skin, bringing nutrients to the skin and hair, and helping it to retain moisture. It is used in shampoos, conditioners and other hair care products, lotions, body oils and creams, lip balms, anti-aging and wrinkle creams, face creams, soaps and body washes/shower gels, perfumes and deodorants.
It also is incorporated in aromatherapy and massage oils since it blends well with essential oils and is a good carrier oil. The flowers are high in nutritional value and antioxidants, which again, are beneficial for hair and skin. The flower is also lightly fragranced to give hair and body a floral smell and is thus is common in products such as colognes/perfumes and hair oils.
Moringa in hair: The leaves are reportedly beneficial for the hair and scalp due to the aforementioned vitamins and minerals, which can be used to cleanse the hair and scalp and prevent hair damage, dandruff and dry and lifeless hair. These are said to increase blood circulation in the scalp and boost hair growth.8 As blood circulation increases, the hair follicles receive more nutrients, which leads to strong and healthy hair.
Mature seeds yield 38-40% edible oil called 'ben oil' due to their high concentration of behenic acid. As a fatty acid, behenic acid is important to help provide a protective barrier against the environment. It is used for its lubricant, emollient and soothing properties.
Moringa oil also lifts dirt out of the hair and is an efficient natural cleanser. Simply wetting the hair, massaging the oil into the scalp and rinsing can effectively clean and moisturize the scalp.
Moringa in skin: As stated, moringa leaf contains iron and demonstrates anti-inflammatory and antiseptic properties.9 This can help to treat minor injuries such as bruises, cuts, insect bites, rashes, sunburn and other burns, and hastens the healing of injuries. The leaves also contain approximately 30 antioxidants that promote healthy skin.10 Antioxidants play a vital role in maintaining cellular health in the body, reducing the risk of cancer and slowing the aging process by reducing free radicals. Being rich in sulfur, moringa leaves also are said to be good for skin, improving skin flexibility and texture.11
Moringa oil improves the appearance and radiance of skin, meanwhile decreasing the appearance of wrinkles while preventing the sagging of facial muscles. It also lends hormones called cytokines,12 which help to promote cell growth and delay damage and destruction of skin tissues. Furthermore, vitamin C stabilizes collagen and improves fine lines while repairing damaged skin cells. Nutrients such as vitamin A also help to build collagen in the skin, while vitamin E imparts healing and anti-inflammatory benefits.
Moringa softens dry skin and maintains moisture. Thus, it is good for conditioning dry, chapped lips and is beneficial to treat rough, dry skin conditions such as dermatitis, eczema and psoriasis. It also keeps babies' skin soft and has a soothing effect.
In terms of acne and hyperpigmentation, moringa oil is reported to help to clear blackheads and pimples13 and when used regularly, can prevent the reoccurrence of blemishes. It furthermore minimizes dark spots caused by acne and hyperpigmentation.
Anti-pollution applications: In today's market, the ingredient can be positioned for anti-pollution properties. Moringa seed extract powder acts as a cleansing agent that can protect the skin from heavy metal pollution and cigarette smoke. As such, lotions and deep cleansing creams use this as a common ingredient. It also protects skin against particulate matter and smog particles adhering to its surface.
In an example composition, Marrubium vulgare extract, Moringa pterygosperma seed extract, wild soybean extract and Mirabilis jalapa extract provide anti-pollution protection in three ways. The moringa seed extract forms a physical barrier membrane on the skin to reduce the adsorption of pollutants. The wild soybean extract further screens and prevents pollutants from entering the skin. The M. jalapa extract and M. vulgare extract can improve the tolerance of skin to pollutants so as to avoid irritation, allergy and the like.
In addition to removing impurities, moringa can rejuvenate the skin and can enhance skin fairness or maintain the evenness of natural skin color.14
Gaining Attention
Although it has not yet gained the widespread popularity of oils like argan or rose, moringa is slowly popping up in skin care brands. Emma Hardie, the London-based aesthetician for Sophie Dahl, Angelica Huston and the Spice Girls, swears by the oil and includes it in her proprietary skin care line. It is only a matter of time before this natural multifunctional draws multifaceted attention.
References