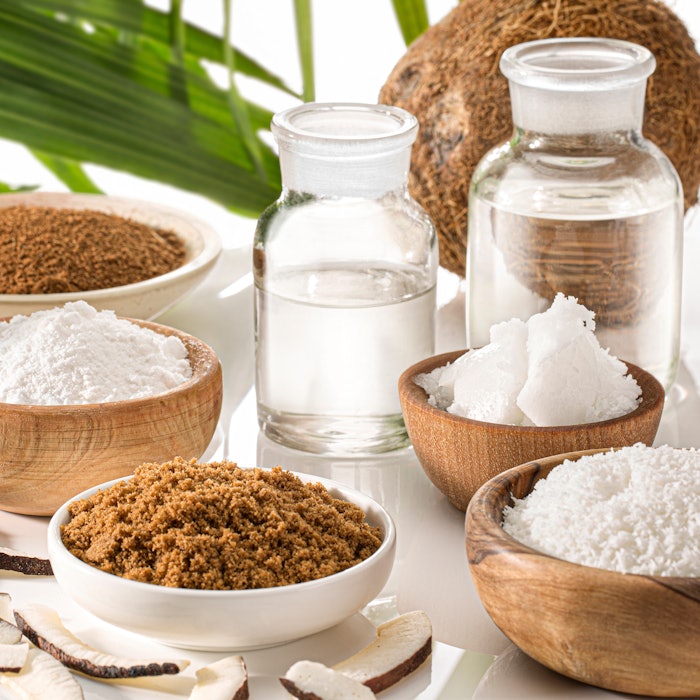 Praan Naturals has announced the addition of several new ingredients to be featured at NYSCC Suppliers' Day at booth 1531.
The company has introduced Organic Coconut Sugar (INCI: Sucrose) in 16 mesh and 50 mesh sizes. These sugars are sourced from sustainable farms and act as a fragrant natural exfoliant, ideal for inclusion in scrubs and soap formulations.
Praan Naturals has been working on Monoi de Tahiti oils; exotic, delicately aromatic oils produced to exacting specifications. All varieties carry the Appellation of Origin (AO) certificate that guarantees that the oil is produced under strictly controlled manufacturing methods, ensuring the highest quality material.
The first new variety is Monoi de Tahiti Oil (INCI: Cocos Nucifera (Coconut) Oil (and) Gardenia Tahitensis (Tiare) Flower Extract (and) Tocopherol (and) Helianthus Annuus (Sunflower) Seed Oil), infused with 200 flowers per liter of coconut oil, rather than the traditional ten flowers, and contains no additional fragrance.
Praan Naturals has added two of these oils with added natural fragrance – one scented with gardenia and coconut, the other scented with pamplemousse and tipanier – to its portfolio. These oils are produced in the traditional manner, macerating ten fragrant tiare flowers per liter of coconut oil with natural fragrance added as the final step in production.
The oils penetrate quickly and restore moisture balance to dry skin and hair. They are ideal for inclusion across most cosmetic formulations, including soaps, lotions, hair care and scrubs.
The company will also present two natural preservatives that act as antimicrobial agents within aqueous formulations. Radish Root Ferment (INCI: Leuconostoc/Radish Root Ferment Filtrate) is produced by controlled fermentation using Leuconostoc bacteria; and Lichen Extract (INCI:  2,3 - Butanediol & Cladonia Rangiferina Extract) is produced through fermentation using Cladonia rangiferina lichen, which is rich in usnic acid and in 2,3-Butanediol.