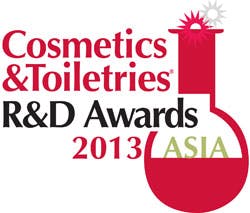 Cosmetics & Toiletries® will expand its esteemed R&D Awards at In-Cosmetics Asia to honor one new cosmetic/personal care raw material and one new finished product targeted to the Asian market. These awards recognize the science behind the final product and allow both suppliers and manufacturers to bring greater exposure to their innovative technology and product launches.
Nominations are reviewed by an esteemed panel of international experts, who select the winners for two categories—Best New Ingredient and Most Creative Application. Each entry is judged not only for its significance to the industry but also for its long-term impact.
The award for Best New Ingredient will honor one new
cosmetic/personal care raw material for its innovative design and/or
method of development.
The award for Most Creative Application will honor one new finished
cosmetic/personal care product for the novelty and craft of its
formulation and/or application of a technology.
Eligible entries must be associated with a raw material or finished product for the Asian market launched between August 2012 and November 2013. Winners will be announced during In-Cosmetics Asia and also will be profiled in Cosmetics & Toiletries magazine.